Android is the operating system of over 2 billion smartphones around in the world. A good chunk of the Android smartphones sold worldwide come from Chinese technology giant Huawei and its sub-brand Honor. Like its many rival Chinese brands, Huawei ships a heavily customized build of Android on all its smartphones. The software is called "EMUI," or Emotion UI as it was once known. Huawei's sub-brand Honor also ships EMUI on its smartphones, although under a different name called "Magic UI."
With Huawei and Honor rising in popularity outside of China, EMUI and Magic UI have evolved to meet the needs of international audiences. If you've never bought a Huawei or Honor-branded smartphone and are looking to pick up a new Honor View20, Huawei P30, Huawei Mate 20, or any other device from the Chinese brand, you may feel overwhelmed by how many features there are in EMUI and Magic UI. In this review, I'll be covering everything—and I mean everything—there is to know about the global versions of EMUI and Magic UI. By the end of this review, you'll hopefully have a thorough understanding of what your new Huawei or Honor smartphone can do. You probably intend to keep your new smartphone for at least a year or two, so you'll definitely want to become acquainted with EMUI/Magic UI if you want to make the most out of your new smartphone purchase.
XDA-Developers VIDEO OF THE DAY
Huawei's EMUI has been around since the days of Android 4.0 Ice Cream Sandwich back in 2012. 7 years later, the latest version is EMUI 9.1 based on Android 9 Pie, as first seen on new Huawei P30 series. The latest Magic UI release is version 2.0 as seen on the Honor Magic 2 and Honor View20, although Honor is working on bringing Magic UI 2.1 with EMUI 9.1 features over to their smartphones. I have used EMUI since EMUI 5.0 based on Android 7.0 Nougat on the Huawei Mate 9. I also have experience with EMUI 8.0 based on Android 8.0 Oreo on the Huawei Mate 10 Pro. Lastly, I have been using the Huawei Mate 20 X running EMUI 9.0 based on Android 9 Pie for the past 5 months, although I have also used both the Honor Magic 2 and Honor View20 running Magic UI 2.0 based on Android 9 Pie. Thus, I have a long history with EMUI and I pretty much know it inside and out.
Because of the length of this review, I have divided it into 3 separate articles. Here is an overview of what this review covers in total:
Page 2 – Behavior
Article 2 – EMUI 9 Features and Apps
Page 2 – Sharing and Privacy
Page 3 – EMUI Apps
Article 3 – New features in EMUI 9.1
This is part 1 of the review, focusing on the design and behavior of EMUI 9. Part 2 can be accessed from the link at the end of this article.
---
Look and Feel of EMUI 9
During the formative years of Huawei's smartphone brand, the company's Android software shared a lot of similarities with Apple's iOS. Huawei wasn't at all unique in shaping their design off of what Apple was doing. After all, Apple was the smartphone brand to beat in China; the infamous story of a person selling a kidney to buy an iPhone comes to mind. Thus, iOS-inspired designs were all over the place, forsaking the bold UI changes that Google was making in the early Holo and Material Design days.
The landscape has changed in recent years, however. Huawei is a force to be reckoned with on the global stage, and they're now the number 1 smartphone brand in China and number 2 worldwide. As the company's smartphone brand has matured, so too has its design identity. While they haven't adopted the new Material Theme elements in version 9 of their software, Huawei has made enough changes to EMUI over the years that I feel it's become an acceptable alternative to Pixel software or OxygenOS. If the default UI still isn't your cup of tea, you can tweak many parts of it with a custom theme, as I'll detail in the next section.
The main settings pages in EMUI 9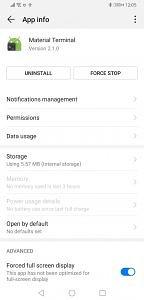 As you'll find out when reading the rest of this review, EMUI has a ton of features. Exposing each of these features to the user in an easily accessible manner is tough. Huawei recognized this dilemma, and so one of their major goals with the EMUI 8 update was to declutter the settings interface. Huawei tried to distribute features into submenus such that you wouldn't have to keep tapping until you found the feature you were looking for. In general, they did a pretty good job—you only need to tap 2 to 3 times from the main settings page to reach the end of most subsettings pages. I wouldn't blame you if after you saw the main Settings page you thought that EMUI doesn't have a lot of features; unlike Samsung's One UI, you don't need to navigate through a million different pages or modules to control your device.
I do have a few complaints with the layout of the settings app, though:
If you're coming from a Google Pixel or Nokia device, then something might feel off when you first look at the navigation bar. In comparison to stock Android's navigation bar, EMUI's is much more compact. The back, home, and recent app keys are placed pretty close to one another, making it easier to reach all 3 keys with one hand from either side of the screen but also making it easier to accidentally press the wrong key. Personally, I've never had problems with misentries and I prefer the compact navigation bar because it helps with one-handed use.
In Settings > System > System navigation > Three-key-navigation settings, you can choose from 4 different navigation key layouts. The first is the default three button layout while the second flips the back and recent apps key, the third adds a status bar pull-down button to the right, and the fourth is a combination of the second and third layout changes. Lastly, you can toggle the "hide navigation keys" option to add a down arrow to the left side of the navigation bar; when pressed, the navigation bar hides until the user swipes up from the bottom of the screen.
In Android 9 Pie, Google decided to move the code responsible for the recent apps overview from SystemUI to the launcher. This allowed them to integrate Android Pie's new gestures with the horizontally-scrolling recent app overview cards; you can swipe left and right on the QuickScrim bar to quickly switch between tasks. While Google's gesture control implementation left a lot to be desired, they at least put some thought into how to best take advantage of them.
In contrast, Huawei hasn't shown the same consideration when copying the new horizontally scrolling recent apps list. (To be clear, the horizontal recent apps list is absolutely not a required Android Pie feature. Xiaomi, for example, has a two column vertically scrolling recent apps list in their Android Pie-based MIUI 10 software.) The move to larger cards that scroll horizontally provides greater information density at the cost of slower task switching—something which Google's gestures solved, but Huawei's gestures haven't. (I'll go into greater detail about EMUI's gestures in a later section.) Thus, the new recent apps list in EMUI 9, while more aesthetically pleasing than the one in EMUI 8, is slower at its main job—task switching.
I do have to give credit to Huawei for not following Google's lead in one aspect, though. In stock Android Pie, the split-screen multi-window option is kept hidden from users. It's still there, but you have to long-press on an app icon in the recent apps overview to show a menu that lets you go to the app info page or toggle split-screen. Google even removed the ability to trigger split-screen by long-pressing the recent apps key! Fortunately, Huawei did neither. In EMUI 9, a split-screen button is visible on the top right of any recent app card, and the long-press recent app shortcut still works. In addition, there's no hidden menu in the recent apps overview to speak of in EMUI 9—long-pressing on any app icon always brings you to the app info page. Lastly, while Google stuck the clear all button all the way to the very left of the recent apps overview, Huawei put the button at the bottom of the overview screen. They even let you lock an app in memory by swiping down on the card, so it doesn't get cleared when you tap the clear all button (see the lock icon that appears in the below screenshot)!
The actionable areas in EMUI 9's recent apps overview are marked in red.
You may have heard of some features on the Google Pixel such as "App Actions," "Smart Selection," (the ability to select text and images on the recent apps overview), and the ability for recommended apps to show up in the recent apps. (App Actions are shortcuts to specific parts of apps that are recommended based on your usage, e.g. a recommendation to open a Telegram DM with a friend you recently contacted.) Although the first two features take advantage of new APIs in Android Pie, they aren't considered standard Android Pie features. They're part of something called "Action Services" which is exclusive to the Pixel smartphones. While it's possible for Huawei to replicate this functionality on their own as they've done with Digital Balance versus Google's Digital Wellbeing, don't count on them doing so—you'll just have to miss out on this feature. As for the recommended apps not showing up in the recent apps overview, the blame can be laid at Huawei's feet for not properly integrating the launcher's app drawer with the recent apps overview.
Although it's a staple of Android, the Quick Settings panel is implemented differently by basically every OEM. The Quick Settings icons in EMUI 9 come in 3 different flavors: a light gray outline for when a toggle is inaccessible (e.g. mobile data when airplane mode is on), a dark gray outline when a toggle is available but currently turned off, and a light blue outline when a toggle is turned on. The background of the Quick Settings panel is white by default but can be black with either a custom theme or when the built-in dark theme is enabled (more details on that below.) The blue accent color is easy on the eyes and works well with either the light or dark background, so that was a smart choice by Huawei.
When pulling down the status bar, 1 row of 5 icons are shown. Pulling down even further reveals up to 3 rows of 5 icons each, for a total of 15 total Quick Setting tiles. Below the Quick Settings tiles is a brightness slider, though sadly there's no shortcut to quickly toggle adaptive brightness ("auto-adjust" under Display settings.) To the top left of the Quick Settings tiles are the time and date; tapping the time opens the alarm app while tapping the date opens the calendar app. To the right is a user profile switcher, which when tapped, expands right there into a small "User." Like stock Android 9 Pie, Quick Setting tiles can no longer be expanded, but at least the user profile switcher can still be expanded. Next to the profile switcher is the Quick Settings edit button which lets you re-arrange tiles. I think Huawei made a smart move here by making the editor a full-page activity—that avoids fumbling while dragging icons around like on the Pixel. Lastly, to the very top right there's a shortcut to the settings page. No, you can't long-press the icon to show the SystemUI Tuner.
Most new Huawei and Honor smartphones have notched displays, so EMUI accommodates the loss of usable status bar space by shifting some icons to the top left. Unlike Google's Android Pie release, EMUI 9 only shifts network/connectivity-related status bar icons like Wi-Fi, Airplane Mode, and Mobile Data to the top left. Under Display > More display settings, you can also add a network speed widget to the status bar as well as the carrier name (but why would you?) Notifications from your apps are displayed on the left after any network icons, though this can be turned off entirely or changed to only display the number of pending notifications (under Notifications > more notification settings.)
While hiding the carrier name and shifting network-related icons to the left helps reduce the status bar icon spam of EMUI 8 and earlier, there's still a lot of icons for a lot of different functions on your phone. There's an icon for when headphones are plugged in…which is totally unnecessary since it's not telling you something you may not be aware of. There's an icon for data saver mode, eye comfort mode, and high-performance mode. I feel that users would be better served by having the Settings app warn users when these options are enabled; this is something that Google started doing in Android Pie and Huawei employs to some extent, but they don't go far enough. If you want to reduce the number of icons yourself, I recommend tinkering a bit with SystemUI Tuner by XDA Member Zacharee1.
The status bar can easily get cluttered after you turn on a few features.
Download QR-CodeSystemUI Tuner Developer:Zachary WanderPrice:Free
+
This row of icons shows the inconsistency in shape between the stock Huawei apps (Dialer and Camera) and Google apps (Messages and Chrome).
The icons are inconsistent in EMUI 9. Huawei apps are squares with rounded corners (technically not squircles, for the pedants out there) while most other apps will be rounded due to convention (with rare exceptions like the Google Analytics and ProtonMail apps.) There's no rounded icon mask applied system-wide, which is something that Huawei could have easily done since native support for this was added in Android 7.1 Nougat. Fortunately, Huawei made changes to the iconography in EMUI 9.1, and themes can already change the icon pack to any shape. They've made the icons less cartoonish in EMUI 9.1, too.
In stock Android 9 Pie, the power menu is shown as a bar on the right-hand side of the screen, much like the volume bar. While EMUI 9's volume bar is also shown on the right-hand side, the power menu remains a full-screen dialog like in previous versions of the software. The background is blurred and the circular buttons are centered, but the new "lockdown" option in Android Pie can be shown if you enable "show lockdown button on power off screen." Lockdown mode makes it so your phone can only be unlocked by entering your phone's PIN/password.
Although EMUI 9's volume bar doesn't look any different from its stock Android counterpart, it lost the ability to quickly switch the media output device but gained the ability to change the ringer volume without entering settings. If you tap on the icon on top of the volume bar enough times, you'll eventually see the media volume bar split and show a bar for the ringer volume.
One area where I don't mind Huawei's changes is the share menu. Android's share menu is notoriously slow, made even worse by the direct share shortcuts that appear on top. EMUI 9's share menu pops up quickly because it doesn't let you create shortcuts. I'm not sure if Huawei changed the share algorithm like Google did in Android Q to speed things up, but EMUI's share dialog has always been quick for me. The one downside is that, without shortcuts, it can take a few left-and-right scrolls until you find the shortcut you're looking for.
---
Themes
One of the best EMUI features is also one of its oldest—themes. Themes let you change the lock screen style, icon style, lock screen wallpaper, home screen wallpaper, and font. You can even mix and match these elements from different themes. While you won't magically transform your Honor View20 into a Google Pixel 3 using a theme, you can at least change the aforementioned elements to be more Pixel-like. For example, an "Android Q dark theme" I downloaded changed the lock screen clock to be centered, changed the font to Google Sans, made Settings and Quick Settings dark, changed the wallpaper to a beach wallpaper, and made all my app icons rounded.
Top row: Default theme (Fairy Land) on my Huawei Mate 20 X running EMUI 9. Bottom row: Android Q Dark theme.
The theme engine that Huawei provides is pretty powerful, yet sensibly limited. Developers can build custom themes and submit them to the Huawei Theme Store or post the .hwt files online. Users can download and install themes from the Theme Store or place them in a /Theme folder which can then be imported in the Theme Store app. Themes can be built for multiple EMUI versions and sometimes older themes work on newer EMUI versions, but your mileage may vary.
Pre-installed system apps from Huawei can be themed, as can the SystemUI, Settings, and framework. The "Android Q dark theme" I mentioned even made changes like eliminating the line dividers in Settings to give a more Material Theme-like appearance, and it also rounded the icons system-wide. With the theme engine, you can even get a full, system-wide dark mode by using a theme if your device doesn't have the built-in dark mode option. However, be warned that many dark themes won't modify all UI elements properly, resulting in some areas showing black text on a black background.
Themes are built using Huawei's custom theme engine and not Sony's Overlay Manager Service (OMS) which Google and Samsung have adopted. OMS is far more powerful than Huawei's theme engine because it allows developers to overlay any resource in an app—allowing for changes like reducing the navigation bar height on Samsung devices. Google never intended for users to take advantage of OMS, though, so they closed down access to it in Android 9 Pie, and Samsung also seems to be limiting unapproved themes in the One UI update. Thus, for a time Samsung and Google had superior theme engines, but both have since scaled back what developers can do with them so Huawei's theme engine, which was always limited, is now on par.
---
Dark Mode
On some devices, EMUI 9 has a system-wide dark mode that adds a black background to the Settings, notification panel, volume panel, and all stock EMUI apps. The dark mode can be enabled in Settings > Battery > Darken interface colors. You can enable the dark mode on the Huawei Mate 20 Pro and Huawei Mate 20 X, but not the Huawei Mate 20, Honor Magic 2, or Honor View20. Since the Honor Magic 2 has an OLED panel, I don't think having an OLED panel guarantees that you'll have the system-wide dark mode in settings. Fortunately, custom themes can give you a system-wide dark mode if you're missing it on your device.
Above: The default light theme in EMUI 9. Below: The default dark theme in EMUI 9.
---
Notch Hiding
Most smartphones from Huawei or Honor released in the past year have a notched display. I personally find waterdrop notches tolerable, but if you're not a fan of the way content looks with the notch then you can hide the notch in display settings. If you go to Settings > Display > More display settings > Notch, you can choose to either show (default) or hide the notch. Hiding the notch darkens the entire status bar area. You can also hide or show the notch on a per-app basis if you think one option looks better in certain apps. Finally, despite its name, the notch hiding also applies to the punch hole display of the Huawei Nova 4 and Honor View20.
Show or hide the notch/display hole – your choice.
This is an extremely simple feature to add, so we can't exactly praise Huawei for their ingenuity here. If we're comparing the notch hiding feature to Google, then we have to give the win to Huawei because Google's notch hiding solution pushes down the entire status bar area resulting in a loss of usable screen space. EMUI 9's solution is also better than OxygenOS' since the latter doesn't allow you to hide the notch on a per-app basis. Even our own Nacho Notch app doesn't offer that feature. Adding per-app notch hiding is such a simple feature that I'm surprised other smartphone makers haven't implemented it yet.
Per-app notch hiding settings
---
Full-screen Settings
Two years ago, we complained about the LG G6's 18:9 display because of the poor user experience. Since the LG G6, dozens of smartphones have launched with 18:9 displays. App developers have had a long time to update their apps to take advantage of larger aspect ratios, and most apps on Google Play will look just fine on your device. However, there are still a few apps, mostly older apps that haven't been updated in a while, that leave a gap at the bottom because they haven't been optimized for 18:9 displays.
If you run into any of these apps, EMUI 9 gives you the option to relaunch the app in "full-screen display" mode. A button will temporarily appear on the bottom of the screen (or on the right side if you're in landscape mode) that lets you enable display compatibility for the app. If you miss the button the first time, you can simply relaunch the app to see it again. Otherwise, you can control which apps have had "full-screen display" forced on them by going to Settings > Display > More display settings > Full-screen display. In general, I recommend you enable this mode for any apps that don't display correctly. The feature warns you that some apps may display incorrectly with it enabled, but I haven't had any issues forcing display compatibility for the few older apps that I still use.
---
Lock Screen/Always on Display
EMUI 9's lock screen may not be as aesthetically pleasing as stock Android's, but it's far more functional. I think the default widget that shows the digital clock, step counter, and current date looks dated, but custom themes can easily change the widget's appearance.
During media playback, the lock screen shows you buttons to toggle play/pause, skip to the previous track, or skip to the next track. The cover art is shown in a circle in the middle with the song's title and artist right above it. The background shows a blurred, zoomed in version of the cover art. When there are no new unread notifications, the media widget is large and centered on the lock screen. On the other hand, when you do have new notifications, the media widget is shrunk and moved to the top right of the screen.
Depending on your preference, notifications can be hidden from the lock screen entirely, hide only the contents of the message, or shown in their entirety. If you choose to not hide notifications, they will stack vertically in the middle of the screen, starting from the most recent going down to the oldest. You can double tap on any of the notification(s) to expand its contents. If the phone hasn't been unlocked yet, then it'll ask you to unlock your phone before showing you the notification on top of whatever app you were in before locking the phone. If you've unlocked your phone with face unlock, then the notification stack will move to the top of the screen without unlocking the phone to the home screen or whatever app you were previously in. Like iOS, EMUI 9 has an option to hide the notification content until your face has been recognized by face unlock. Setting up an equivalent feature in OxygenOS requires the use of an Xposed Module, so I'm glad that Huawei borrowed the feature from Apple so we don't have to tinker with the framework ourselves (which is impossible to do anyway).
A neat security feature in the EMUI lock screen is the restriction on accessing the Quick Settings panel. The Android software on Google Pixel and OnePlus smartphones lets you pull down the status bar and toggle network settings like WiFi, mobile data, and Bluetooth even when the phone is still locked. In EMUI, you have to first unlock the phone before you can access the Quick Settings panel. This is actually pretty new behavior for EMUI since it wasn't around in EMUI 5 based on Android Nougat. In fact, I made an app to hide sensitive Quick Setting tiles on my Huawei Mate 9, but this is no longer needed.
EMUI still lets you access certain functions while the screen is locked, though. By pulling up from the bottom right edge, you gain immediate access to the camera app, letting you take pictures or videos, but restricting access to the gallery until you unlock the phone. If you pull up from the bottom left or middle edge, you get access to two rows of buttons. The buttons in the first row, from left to right, perform the following actions when tapped: locks the current lock screen wallpaper so it doesn't change, removes the current lock screen wallpaper from the cycle, saves the current wallpaper to your gallery, opens the share menu to share the current wallpaper, and lastly opens the magazine unlock settings (more on that below.) The buttons in the second row, from left to right, perform the following actions when tapped: launch the sound recorder, toggle the flashlight, launch the calculator app, launch the clock app, and lastly launch HiVision. Launching the sound recorder, toggling the flashlight, launching the calculator, and launching the clock to see the timer, stopwatch, or world clock don't require unlocking the phone, though accessing the alarms in the clock app or launching HiVision will require you to unlock the phone.
For those of you who love to regularly change wallpapers, you'll enjoy the built-in wallpaper cycler in EMUI 9/Magic UI 2. The feature is called "Magazine Unlock" and it shows a different image on the lock screen each time you turn the screen on. You can either "subscribe" to one of Huawei's curated selections of wallpapers or you can build your own album to cycle through. Third-party apps like Muzei or 500 Firepaper offer a lot more customization, but I like to keep the number of apps I install to a minimum so I prefer first-party solutions. If you turn on your phone and you don't like what you see, you can manually change the current lock screen wallpaper by swiping left or right. This cycles the lock screen wallpaper through the magazine(s) you've subscribed to.
If you own a Huawei Mate 10 Pro, Huawei P20 Pro, Huawei Mate 20 Pro, or Huawei Mate 20 X, you can enable the Always on Display in Settings > Home screen & wallpaper. You can either choose to show the Always on Display at all times or set a daily schedule. Unlike the other aspects of the lock screen, Huawei doesn't offer any sort of customization of the Always on Display. The Always on Display widget can only show you the date, time, and battery level. Not even notification icons are shown on the Always on Display, though this has been changed in EMUI 9.1. The text is always white, though it does move around on occasion to prevent burn-in. Since there's no double-tap-to-wake feature, you have to either lift the phone or press the power button to transition from the Always on Display to the lock screen.
Overall, EMUI 9's Always on Display is a disappointment when compared to what Samsung offers. Samsung lets you add GIFs, custom wallpapers, and clock styles. Even Google's version is more useful because it shows your notifications and the Now Playing widget.
Continue to Page 2 – EMUI 9 Behavior
Pages: 1 2