Last year, the Meta-owned chat app WhatsApp introduced a long-awaited feature that allowed users moving from iPhone to Android to take their chat histories with them.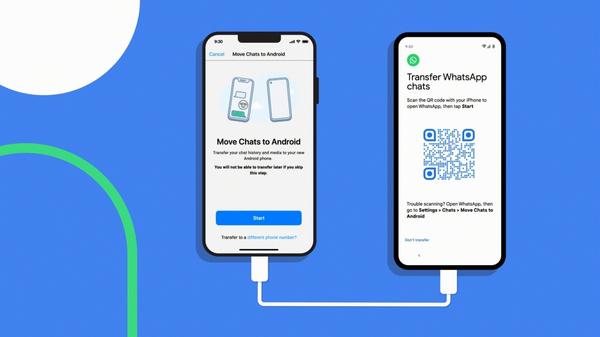 Considering long-term users could have more than a decade's worth of history with the app, that was long overdue, but there were certain caveats. Firstly, the feature was only for select flagship Samsung handsets at the time, with support for more devices to follow. Secondly, the feature only worked one way: you could transfer from iPhone to Android, but not the other way around.
It looks like that will soon be changing. WABetaInfo spotted references to the feature in the latest beta of WhatsApp for iOS, and while the transfer feature isn't live at the moment, there's enough to go on to suggest that it won't be long before it works in some fashion.
Included in the WhatsApp beta are the two screenshots above, which give you an idea of how the transfer feature will work. After granting your device permission to access your chat history, you'll then be able to shift it via Apple's Move to iOS app, as long as you keep your phone unlocked and the app open. You'd imagine that large chat histories — my nine-year history is 4GB as of this morning, according to WhatsApp — will take some time.