These brands do it best.
AmazonBlake Stimac
Virtually everyone jumping on the smart home bandwagon has a smart plug of some sort. These WiFi-enabled plugs make it easy to add some smarts to simple products and appliances with on/off switches so you can control them with your phone or voice via smart home assistant. With the exception of some nifty smart plugs (usually more expensive) that allow you to monitor the energy usage of said plug, there's little else to the device. This possibly explains their prevalence, but it nonetheless can make it more difficult to choose which brand is right for you.
Below, we've listed seven of the best smart plug brands you can buy right now!
Gosund Mini Wifi Outlet
If you're looking for a solid bargain without sacrificing on quality, the Gosund Mini Wifi Outlet may be for you. A 4-pack runs for the price of one single "big-brand" option, which should turn some heads. One thing to note about these plugs is that they only support the 2.4GHz band of WiFi, so if you were expecting 5GHz support for some reason, you're out of luck. That's hardly something to ding these plugs for, though, as virtually no smart plug on the market supports the faster WiFi frequency band.
Smart plug, Gosund Mini Wifi Outlet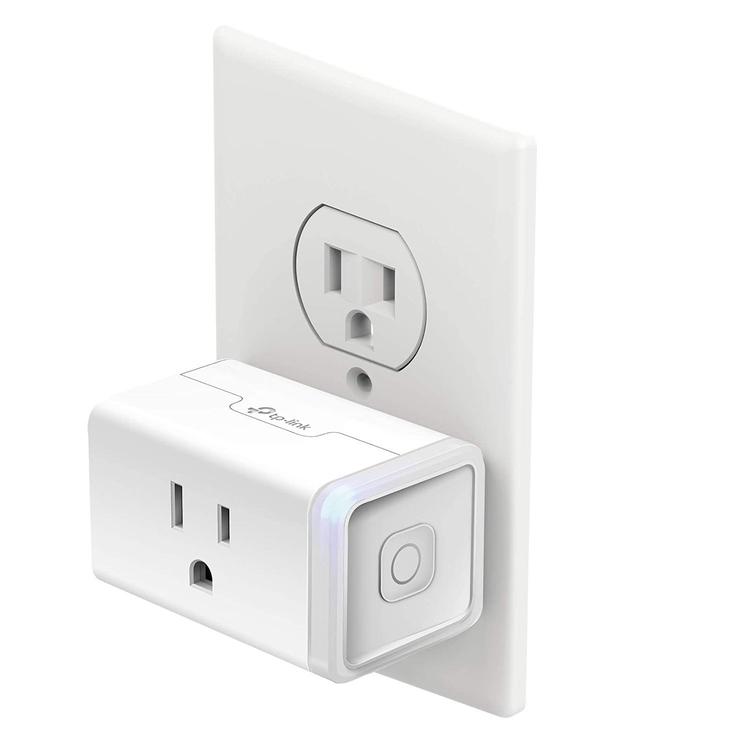 TECKIN Smart Plug Mini
Virtually identical to the Gosund plug above, with only the logo and small design changes setting the Teckin Mini apart. However, you can conveniently choose if you'd like to buy the 4-pack or simply a single plug for $10 without any extra searching.
Teckin Mini Smart Outlet Wifi plug
Kasa Smart WiFi Plug Mini by TP-Link
With a name like TP-Link behind it, you should expect to see a higher price point, and that's just what you'll get with the Kasa Smart WiFi Plug Mini. For a little over $30, you can get two of these smart plugs, which is a far cry from the 4-packs above for even less. That said, with a 4.4 star rating from over 4,500 reviews, you can at least be assured that you're getting a quality product.
Kasa Smart WiFi Plug Mini by TP-Link
Syncwire [2 in 1] Mini WiFi Smart Plug
In a sea of similar products, it's hard to stand out, but the Syncwire Mini WiFi Smart Plug does. While it's definitely on the pricier side of the spectrum, each plug offers two outlets, each of which allow you to monitor the energy consumption. That's really something for a smart plug. Normally, it wouldn't be surprising to see a plug like this to sell around $30 for a single unit, but for $41, you get two.
Syncwire [2 in 1] Mini Wi-Fi Smart Plug - [2-Pack]
Geeni Spot Smart Wi-Fi Plug
As mentioned above, it's hard to stand out when the market is saturated with a ton of the same product. This is where the Geeni Spot Smart WiFi Plug sits. It doesn't stand out functionally or design-wise. It's not overly expensive or incredibly cheap. But that's okay. A part of being in such a flooded market is that someone who knows nothing about smart plugs can pick a random one up and it does what it says it does. Hard to complain about that.
Geeni Spot Smart Wi-Fi Plug, No Hub Required, Works with Amazon Alexa, Google Assistant & Microsoft Cortana, White
Amazon Smart Plug
If you're heavily invested in the Amazon ecosystem (or echosystem), then it would make sense to just go ahead and grab the Amazon Smart Plug, right? Well, yes and no. While it does what it's supposed to do, so does every other plug on this list. Plus, the price is steep, coming in at $25.
While one shouldn't assume that an Amazon-made smart plug device would work with competing smart assistants, it's easy to assume they will, since most do. This would be a big no. If you're a Google Assistant user or have a mix of both Google and Amazon devices in your home, don't expect this plug to be friendly with big G. Amazon is by far still the market leader when it comes to the smart assistant space, but it lost nearly 11% market share in the space from Google and others year over year, and that trend is likely going to keep going. Just something to think about.
Amazon Smart Plug
Wemo Mini Smart Plug
One of the most popular brands in the smart plug world, the Wemo Mini Smart Plug is a decent choice. It's not a fantastic experience, but it can only be assumed that all of the other options on this list are imperfect as well. Still, it's one of the first major options that was made available and has improved in design, but unfortunately, not in price. A single unit is $35, but it's thankfully on sale very often.
Wemo Mini Smart Plug, WiFi Enabled, Works with Alexa, Google Assistant & Apple HomeKitShare: