Photo: amazon.com
The simple act of replacing a standard light switch with a dimmer switch can change the ambiance of your home. By adjusting the intensity of your lighting, you can set just the right mood for a romantic dinner, an evening of binge-watching your favorite TV show, or an intimate family meal in the kitchen.
The best dimmer switches take your lighting options beyond the stadium bright and pitch-dark options a standard switch gives you, allowing you to select a happy medium somewhere between them. These gadgets come in a variety of styles, ranging from traditional toggle switches to streamlined rocker switches.
Some high-tech options link to smartphones and voice-activated assistants such as Alexa and Google Home, allowing you to control your lights through voice commands. Smart dimmer switches also control multiple lights at one time, enabling you to program different mood lighting.
In less than 30 minutes, DIYers can easily install these high-tech switches using nothing more than a screwdriver. Read on to learn more about how dimmer switches can add versatility to the lighting in your home and why the models below are some of the best on the market.
Photo: amazon.com
Types of Dimmer Switches
When shopping for a dimmer switch, it's important to understand the different types that are available on the market. You want to make sure you're buying one that's compatible with the light fixture it will be controlling.
The pole of a switch refers to the number of terminals it has. A single-pole dimmer switch features two terminals that turn one circuit on or off. This type of switch will not work for lights controlled from more than one location, such as a hall light with a switch at the bottom of the stairs and another at the top of the stairs.
Dimmers that are 3-way include three terminals, while a 4-way switch has four terminals. These extra terminals allow you to loop more switches into the circuit. For example, you need a 3-way dimmer to control a light with two switches. A light controlled by three switches requires a 4-way dimmer. When using a 3-way or 4-way dimmer switch, you should have only one dimmer switch on the circuit.
Unlike conventional dimmer switches, a multilocation dimmer switch allows you to have multiple dimming controls on the same circuit in more than one location. This type of dimmer works with 3-way switches, other compatible dimmer switches, remote controls, and smart home systems. In this setup, any device on the circuit is able to control the intensity of the lights. This is a good option if you're using a smart dimmer to add voice control to your lighting but also want the option of using a manual dimming switch. A multilocation dimmer can have as many as nine additional dimming devices connected to it. This type of dimmer includes a manual on-off switch and dimming control at the switch.
Plug-in dimmers allow you to add a dimming feature to lamps and other lighting fixtures that plug into a standard 115-volt outlet. This type of dimmer plugs into a standard outlet. When you plug the lamp into the dimmer, you can dim the lamp by connecting the device via Bluetooth to a smartphone, Alexa, or another smart device. Once connected, you can use voice activation to control the lights.
What to Consider When Choosing the Best Dimmer Switch
How the switch operates, the type of bulb it uses, and its wattage capacity are just a few things you need to know about your home and lighting situation before you can determine which dimmer switch will meet your needs.
There are a variety of options to choose from when it comes to how you operate a dimmer.
Dimmers will work with incandescent, halogen, LED, and CFL bulbs; however, you need to make sure the specific bulbs you use are compatible with dimmers. While most incandescent and halogen bulbs will work with a dimmer switch, not all LED or CFL bulbs will.
Make sure you use an LED or CFL dimmer bulb; otherwise, you may get flickering or buzzing at lower intensities. Using a standard CFL bulb with a dimmer will shorten the life of the bulb and may damage the dimmer.
LED and CFL dimmer bulbs offer excellent energy efficiency and perform well on a dimmer. The disadvantage is they may not have as low a range as incandescent bulbs. CFL bulbs, for example, will dim down to only about 20 percent of their total light output. LEDs will dim to only about 30 percent, but some dimmers designed specifically for LEDs offer a better range.
Incandescent bulbs have excellent dimming properties, allowing you to dim them to very low levels. The downside is they are much less energy efficient and produce a significant amount of heat.
Before purchasing a dimmer switch, first determine the wattage capacity it has to handle. Dimmer switches all have ratings that tell you their maximum watt capacity. For example, a dimmer switch with a capacity of 250 watts for LED and 600 watts for incandescent bulbs can handle up to 50 5-watt LED bulbs or 10 60-watt incandescent bulbs. Be sure to calculate the total wattage of the lights that are in the space the dimmer will control, and make sure the dimmer can handle the load.
Add lights to the growing list of things you can control with a smartphone. Smart dimmers can connect to iOS, Alexa, Google, and Android devices, allowing you to control your lights from your phone, via voice command from the comfort of your couch, or even from hundreds of miles away. You can also use this technology to program your lighting to dim or brighten automatically, depending on the time of day.
Although it may seem like a daunting job, installing your own dimmer is relatively simple and requires nothing more than a screwdriver. Most dimmer switches come with detailed instructions about how to wire the new dimmer switch once you have removed the old one.
As is the case anytime you are working with electricity, it's crucial to follow certain safety protocols. Always shut off the breaker to the circuit you'll be working on to eliminate the risk of electric shock.
Our Top Picks
Whether you're looking for a smart dimmer or one that works with a 3-way switch, there's a terrific choice here for your home.
1Photo: amazon.com Check Latest Price
This dimmer from Lutron features a toggle-style switch that can accommodate LED bulbs up to 150 watts. It can be used as both a single-pole dimmer for single-switch lights or as a 3-way dimmer for lights that function from two switches.
Since the switch is separate from the dimmer, it's easy to preset the slide switch to the brightness of light that suits you.
This dimmer contains an adjuster under the plate cover that allows you to fine-tune the dimmer's range. Able to control up to 17 bulbs at once, Lutron's dimmer is a great option for rooms with recessed lighting that have multiple light fixtures on one circuit.
2Photo: amazon.com Check Latest Price
If you're looking for a sleek dimmer switch that won't draw attention to itself, look no further than CLOUDY BAY's dimmer switch, which boasts a rocker-style design that blends easily into any room.
The dimmer has a capacity of 600 watts for incandescent bulbs and 150 watts for dimmable LEDs and CFLs. A small slider under the switch allows you to preset the light to a set level, eliminating the need to adjust the lights each time they're turned on.
CLOUDY BAY's dimmer switch works as both a single-pole dimmer or as a 3-way dimmer for light fixtures operated by two switches. An adjustment dial allows you to fine-tune the dimmer's range, eliminating flickering at lower levels.
3Photo: amazon.com Check Latest Price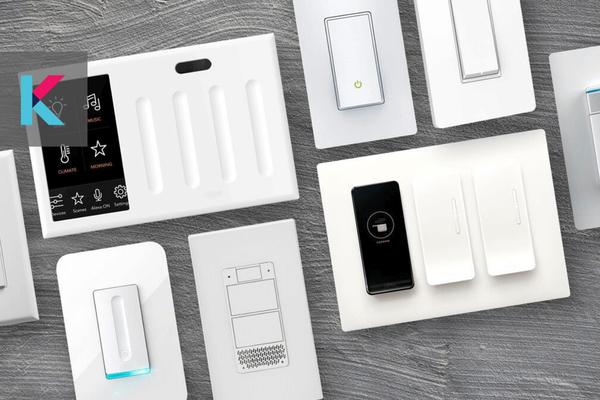 In addition to its standard dimming functions, this smart switch from TREATLIFE has a host of other functions. When combined with Alexa or Google Assistant, it allows you to manage your lighting using voice control.
TREATLIFE's push-button panel features manual dimming controls and an LED light that helps you find the switch easily in the dark. This switch has a capacity of 150 watts for dimmable LEDs and CFLs and a 400-watt capacity for incandescent bulbs.
The dimmer can also control ceiling fans, and if you're away on vacation, you can program it to turn the lights on and off at random times.
4Photo: amazon.com Check Latest Price
Gain mastery of your home lighting with this four-pack of WiFi smart dimmers. This high-tech dimmer connects with Alexa or Google Home to give you voice control over your lighting. Use a smart device to adjust the lighting from wherever you are. Alternatively, you can adjust it manually from the wall plate or with the included remote control.
These four single-pole dimmer switches function as a group, allowing you to create and schedule scenes for different activities and times of the day. Each dimmer has a capacity of 150 watts for LED bulbs and 400 watts for incandescent bulbs.
Pros
Cons
5Photo: amazon.com Check Latest Price
Dimming CFL bulbs can be tricky. CFL bulbs struggle to stay lit when they are dimmed to low levels, and they can take up to a minute to reach full brightness. This universal dimmer switch from Leviton includes a starter for CFL bulbs that helps dim this type of bulb to lower levels without failing.
The Leviton also allows you to fine-tune the range for optimal use with both LED and CFL bulbs to eliminate flickering or humming. With a load capacity of 300 watts for CFL and LED bulbs and 600 watts for incandescent bulbs, the Leviton can function either as a 3-way or single-pole dimmer.
6Photo: amazon.com Check Latest Price
With its LED+ technology, Lutron's sleek, modern dimmer switch will lower dimmable LED bulbs to levels as low as 5 percent. It features a rocker switch with a small fader located on the side.
The Lutron dimmer has a capacity of 150 watts for LEDs and 600 watts for incandescent and halogen bulbs. Because it can accommodate up to 17 bulbs at once (even different types of bulbs), this dimmer can be a great option for rooms with recessed lighting.
7Photo: amazon.com Check Latest Price
When you add a dimmer to a light that's controlled by three separate light switches, you need a 4-way switch. This tap-style dimmer from ZOOZ works as a 3-way or 4-way switch, allowing you to install it on circuits with up to three switches. It has a sleek, low-profile design that includes a small LED for visibility at night.
A great feature of the ZOOZ is that you can double-tap the button to bring the lights to full brightness; a single tap brings the lights back down to their previous level. When it is paired with a smart hub, such as the Z-Wave, this switch can be voice-controlled with Alexa.
The ZOOZ dimmer has a maximum load of 100 watts for LEDs and 300 watts of incandescent bulbs. Installation requires nothing more than a screwdriver.
Pros
Cons
8Photo: amazon.com Check Latest Price
With its impressive set of user features, the Lutron dimmer works in conjunction with other Lutron lighting control products, including dimmers, switches, and occupancy sensors. Its tap-style switch allows you to dim the lights or tap your way through different preset light levels. Notably, this is one of the rare dimmers capable of allowing users to control different types of lights on the same circuit.
The Lutron has LED lights that help you find the switch in the dark, and it can be programmed so lights fade on and off, giving your eyes time to adjust or allowing you to get to the bed before the lights go out. This dimmer has a maximum capacity of 150 watts for LED and CFL bulbs and 600 watts for incandescent and halogen bulbs.
Pros
Cons
9Photo: amazon.com Check Latest Price
Gain the power to control your lighting with your voice using this plug-in dimmer from GE. Setup is easy. Simply plug this dimmer into a standard 15-volt outlet, and then plug your lamp or light source into the dimmer.
Connect the dimmer to Alexa or Google Assistant, and voilà, you have voice-controlled lighting. GE's plug-in is also compatible with Z-Wave-certified hubs.
Perhaps best of all, you can program this dimmer to turn lights off and on (or change their brightness) at scheduled times. The product is compatible with dimmable CFL and LED bulbs up to 100 watts and incandescent and halogen bulbs up to 600 watts.
Pros
Cons
10Photo: amazon.com Check Latest Price
The Maxxima is a terrific way to upgrade your light switch to a dimmer switch without blowing your budget. It operates on either a 3-way or single-pole fixture. This switch is compatible with both incandescent and LED lights and has a maximum capacity of 600 watts for incandescents and 150 watts for LEDs.
With a large slide switch for dimming and a small rocker switch that turns the light off and on, the Maxxima is super easy to operate. It has a blue LED indicator light that lets you know when the switch is off or on. A dial switch under its cover allows you to adjust the range of the dimmer to accommodate LED lights. Available in a variety of hues, including white, almond, and black, this dimmer will blend in easily with many home decor styles.
Pros
Cons
Our Verdict
Selected for easy installation, adjustable lighting, and the ability to support up to 17 bulbs, we selected the Lutron as our top dimmer switch option. For users looking to integrate a dimmer switch with their smart home system, the TanTan model makes a great addition to Alexa or Google Home devices.
How We Chose the Best Dimmer Switches
After evaluating the key aspects of dimmer switches, we determined that these top picks are best for different personal preferences when it comes to lighting atmosphere. Note that some of these dimmers may require neutral wires or special hubs to operate at full functionality.
Many of the featured switches include easy-to-install hardware that does not require an electrician to set up. Most products are versatile and designed to operate as single, 3-way, or 4-way switches. Certain top picks can also function with LED, incandescent, and CFL bulbs. A selection of the dimmers showcased above are also smart home compatible, offering easy voice activation or control through a remote or smartphone.
FAQs
If you still have questions about dimmer switches, read on to learn how they are installed and whether they'll save you any money on electricity.
Dimmers save electricity by reducing the amount of power that flows to a bulb, allowing it to operate while using less energy. This lower power output also puts less stress on the bulb, leading to longer bulb life.
You cannot put just any light on a dimmer switch. You need to check the compatibility of the dimmer switch to ensure it can handle the wattage of the bulb you have. LED and CFL bulbs also need to be dimmer compatible in order to work properly with a dimmer switch.
Once you have removed the old dimmer, straighten the exposed wires so you can attach them to the new dimmer. Connect the bare copper or green ground wire to the box. Connect the house wires, which may be black, red, or white, to the wires from the dimmer box using wire connectors, making sure that no bare wire is exposed.
Begin by turning off the power to the light switch by turning the circuit breaker off in the fuse box. Then unscrew and remove the switch plate. Use a voltage tester to make sure there is no power running through the wires. Unscrew the dimmer switch from the electrical box and pull it out. Remove the wires from the old switch.