Looking for a budget smartphone used to leave you saddled with a clunky handset missing several key features, but these days you can get a great phone for less.
Two brands in particular have really nailed impressive specs for a small price. Motorola prides itself on value for money, with even its highest-spec handsets failing to break the £400 mark.
And while Samsung is best known for its premium Galaxy S and Galaxy Note ranges, it also has several phones for those on tighter budgets in its reasonably priced A series.
Read on to find out more about each brand's latest budget handsets.
Or you can go straight to the best phones we've tested, and check the best Sim-only and contract phone offers to find the perfect model.
Motorola and Samsung phones under £150
Let's start with the truly budget phones. Motorola has more choice if £150 is your absolute limit, but there are some inexpensive offerings from Samsung too.
If you pick a phone this cheap, expect slower processors, lower-resolution displays and pared-back cameras. It's not all bad, though: some phones at this price point outperform premium handsets for battery life.
Below we've pitted two of the brands' cheapest phones against each other to see which, on paper, is the better bet.
At first glance, we're impressed with what Motorola's offering for the money. It comes with four rear cameras, 64GB of storage (32GB is more common at this price) and, helpfully, an IP52 rating. This means it's protected from dust and splash damage.
The 48Mp wide lens on the back is a higher resolution than we're used to seeing on phones this cheap, and it also has an ultra-wide, macro and depth lens too. There's a choice of fingerprint or face scanner for unlocking the phone, which should give you flexibility when you're wearing either a mask or gloves.
It's the cheaper phone in the G range. Spending a little more on the Moto G30 (£160) gets you a higher-spec camera, better processor and more internal storage.
Specs don't tell the whole story, so see what this phone is like to live with by reading our Motorola Moto G10 review.
This is about as cheap as it gets if you want a big name on a budget. Don't expect fancy features though, as this Galaxy is pretty stripped back. It has 32GB of storage (although this can be extended), three rear and one selfie camera, and just a face scanner for unlocking the phone.
Samsung claims it's kitted out this phone with 'streamlined design aesthetics', and it does have an impressive screen-to-body ratio for a budget phone, with just a small notch for the front camera, like the Moto G10.
You can forgive the lack of add-ons if it's a great phone, so check how well this phone fared in our tests in our Samsung Galaxy A02s review.
There's a lot these phones have in common, from their 6.5-inch low-resolution LCD screens, large 5,000mAh batteries and NFC for making contactless payments – a feature you can't take for granted when your budget is this low.
However, the Motorola has more processing power (4GB of Ram vs Samsung's 3GB), runs off the latest Android version (the A02s is lagging behind on Android 10) and its four rear cameras offer more versatility than the Samsung's three.
Where the Samsung edges it is on software updates. It benefits from four years of manufacturer security patches from the date of launch, which means you can keep the phone running safely for much longer than the Motorola, which is due to stop receiving support in 21 months.
Winner: Motorola
---
Use our phone support calculator to find out if your phone is still getting updates, and how long you could expect a handset to last.
---
Motorola and Samsung phones under £200
Coming up to the £200 mark should get you a bit more internal storage, slightly more exciting camera setups and processors more capable of giving you a smooth scrolling experience.
See which of the two sub-£200 Motorola and Samsung handsets we've selected offer the best value on paper.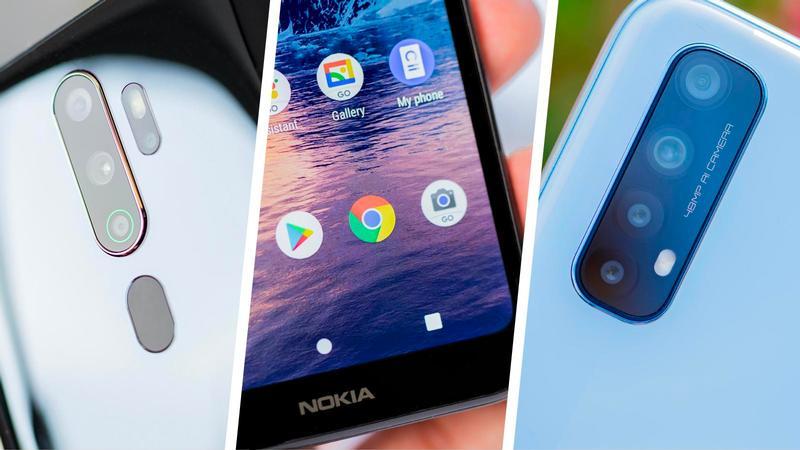 The G9 Power comes with an impressive 128GB of storage, which you can even extend if that's still not enough. The cameras show a clear step up from the sub-£150 phones, with a 64Mp wide lens on the back – a higher resolution than we usually see.
The 6.8-inch screen will make it a bit unwieldy for some, but it does mean Motorola can cram in a massive 6,000mAh battery – which should be more than enough to see you through a busy day.
See if this large phone ticks all your boxes with brilliant battery life, a stunning display and excellent cameras by reading our Motorola Moto G9 Power review.
At 6.1 inches it's much more petite than the Moto G9 Power, but the AMOLED screen packs in more pixels than the Motorola's LCD. These types of displays usually score brilliantly in our tests, as they show off the colours and contrast in your content beautifully.
You get 64GB of storage (although this is extendable), and four cameras in total, including a 48Mp wide-lens main camera on the back, and a 25Mp selfie camera. Samsung's One UI 2 interface (layered over Android 10) should make it as easy to use as Samsung's pricier phones.
Our Samsung Galaxy A41 review reveals how capable this cheap Samsung really is. If you're already tempted, find the best contract deals on the A41 at Which? Mobile Switch.
These Android 10 phones both have the same amount of Ram (4GB), but their strengths lie in different areas.
The Motorola has more internal storage, a battery nearly twice the size, and a higher-resolution wide-lens rear camera.
We have to award it to Samsung, though. It's amazing to see an OLED screen at this price point (it should give the display a more premium feel) and you'll get more than three years' worth of software patches, compared with 18 months for the Moto G9 Power.
Winner: Samsung
Motorola and Samsung phones under £250
Upping your budget to £250 brings in some fancier features including, in the case of the handsets below, 5G compatibility. Even if you don't want a 5G contract straight away, it's a good choice for futureproofing your phone.
The two phones below also offer a little something extra for the money. Read on to see which you should pick based on their specs.
We've come to expect big screens from Motorola, so the 6.7-inch display on this phone should come as no surprise. It's encouraging to see a 90% screen-to-body ratio, which means you can make the most of the vast size for gaming or watching videos on the move.
There's enough room for a large 5,000mAh battery, plus you get a generous 128GB of storage. It's powered by Qualcomm's Snapdragon 765 processor, also found on the super-premium Samsung Galaxy S20, and has a decent 6GB of Ram to give it some heft.
It's gone big in the camera department too, with four on the rear (including a 48Mp wide lens) and two for your selfies.
We put this phone through our test lab to see how it shapes up to other phones on the market. See our Motorola Moto G 5G plus review for the results.
One of Samsung's cheapest 5G smartphones, the A32 comes with 64GB of extendable storage, a large LCD screen (6.5 inches) and battery (5,000mAh).
The MediaTek Dimensity 720 processor has performed fairly well our tests before, and with 4GB of Ram it should be able to cope with most of your multitasking.
It has exactly the same rear camera setup as the Motorola Moto G 5G plus, but one less selfie camera, with just a 13Mp wide lens on the front.
To see if it's one of Samsung's best, check our full Samsung Galaxy A32 5G review.
It's great to see 4K video recording on both these phones (a step up from the cheaper handsets) and, of course, 5G compatibility.
The Samsung comes equipped with Android 11 and it benefits from a long update policy, so you'll be able to own it safely for longer. However, if you're after the best phone for now, it's hard to argue with the Motorola's much higher display resolution, extra 2GB of Ram and additional selfie camera.
Winner: Motorola
Why it's important to consider mobile phone security
If you want a phone that lasts, you'll need to consider not just how sturdy the hardware is, but how long the software will last too.
Security updates are vital for patching up small holes in the software that could, over time, put your data at risk of being hacked. Security update policies vary between brands, andm unfortunately, it's usually the cheaper brands with the smallest support timescales. Two years is common for brands like Honor, Realme and Xiaomi, vs five years for Apple.
Motorola is one of the more transparent of the main smartphone brands on updates. You can clearly see on its website when individual handsets are due to run out of support. However, with just two years of support from launch, you could well run out before the end of a typical two-year contract, and you'd need to upgrade straight away once it finished.
Samsung is one of the leading brands for security updates. Even some of its very cheapest handsets, like the Galaxy A02s featured above, will receive four years of updates (although this hasn't always been the case, with some cheap Samsungs getting just two years).
That's why even though Motorola won two out of three of our heats, if you're looking for longevity, it's better to pick a Samsung. Read our guide to phone brands that offer the best security support for more.
Should you buy Sim-free or on a contract?
If price is your main consideration, a Sim-free plan often works out cheapest overall. You'll need to buy the handset outright (check our best mobile phone deals page for this month's bargains), though, once set up, your monthly payments should be cheap. You can consider entering into shorter or rolling contracts that offer more flexibility.
Contracts charge more per month to make up for the initial cost of the phone. However, they're a good way of avoiding paying top whack for a premium handset, and they can help to build your credit score – as long as you keep on top of the payments. Just take care to make a note of when the contract ends, as you could end up paying the same amount after the end of the two or three-year period, once the phone is paid off.
Our mobile phone contract calculator can help you check how the costs stack up for contracts and Sim-free deals.
Our mobile switching service lets you compare the best deals on new contracts, and if you're looking to buy the phone outright, it's easy to compare Sim-only plans to find a deal that best suits your needs.
Head to Which? Mobile Switch to find the best deals on mobile phones.