You pay hundreds of dollars for the latest smartphone tech only to find that it's not working as expected. We feel your pain. Life's not fair, but don't give up on your Samsung Galaxy S5 just yet. With a little tinkering you can probably find a decent workaround or a solution, in fact, that's why we're here. Behold our roundup of common Galaxy S5 problems and the fixes you need to get past them.
Contents
Problems with notifications, text messages, contacts, and more
A lot of people have been frustrated by their notifications, music controls, and other widgets disappearing from the lock screen after the update to Android 5.0 Lollipop. Thankfully it's easy to get them back again.
Solution:
This is a common problem and many people are reporting that they can see available space in the storage, but the S5 keeps returning this error for updates or when they try to install new apps. The first thing to do is go to Settings and find Storage listed under System.
Potential solutions:
If you want to know more, you can also check our guide on how to uninstall Apps in your Andriod.
Quite a few people have encountered an annoying echo on the Galaxy S5 speaker. For some people it's at their end, for others the echo is bothering the other caller during a call. There are a few possible problems and solutions here.
Potential solutions:
Some people have been having trouble receiving text messages on their Galaxy S5. There are a couple of things that could be going on here.
Potential solutions:
A lot of people have been annoyed by the fact they are deleting photos in the Gallery app on their Galaxy S5, but they just keep returning.
Solution:
If you've been getting this pop-up on your Galaxy S5 pretty frequently and apparently randomly, then you are not alone. There are a couple of workarounds that have worked for some people, and Samsung has released an update that seemed to fix the issue for some people.
Workarounds:
Potential solutions:
Problems with overheating, charging, Wi-Fi, Bluetooth, and more
Your Galaxy S5 will get hot if you play a first-person shooter for a couple of hours, or you use it for hours on end in a hot environment, but if you're getting serious overheating without an obvious cause then it's time to try a fix. A lot of people have run into overheating issues after the Lollipop update.
Potential solutions:
A number of owners have reported problems getting their S5 to charge up properly. It may be refusing to charge at all, or it might be charging extremely slowly.
Potential solutions:
Some people have found that the touchscreen occasionally glitches and becomes unresponsive or registers ghost touches that they haven't made. It seems to be an intermittent issue with no obvious trigger.
Workaround:
Potential solutions:
We see a lot of Wi-Fi issues with smartphones and the Galaxy S5 is no exception. There are loads of possible causes. Make sure that your Wi-Fi is working with another device before you begin to work on a Galaxy S5 related solution.
Potential solutions:
A lot of people have run into issues trying to get the Galaxy S5 to connect with their cars and sometimes other devices via Bluetooth. The solution is liable to be slightly different for different cars and devices, but there are some obvious starting places.
Potential solutions:
A few people have been complaining that the music stutters when they stream using Bluetooth.
Potential solutions:
Problems with screen, calls, lag, and more
Quite a few people have been having issues with the Galaxy S5 screen refusing to turn on. The capacitive buttons light up as expected, but the screen remains black. This seems to occur at different times for different people, but the common issue is that the screen fails to wake up, even though you might be able to hear that the phone is working and feel vibrations. There are lots of things you can try to solve this issue.
Workarounds:
Potential solutions: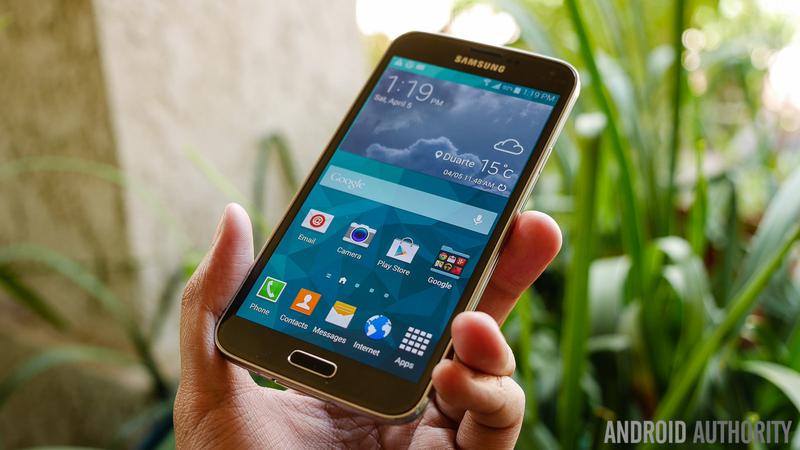 Some Galaxy S5 owners have encountered a problem with the audio during calls. They either can't hear the caller or, more commonly, the caller can't hear them.
Workarounds:
Potential solutions:
If you're wondering what happened to the Menu key that used to be bottom left, it has been turned into the Multitasking button now. The problem is that some older apps don't have a menu option on screen and you need that button to access the settings.
Solution:
In our Galaxy S5 tips article we highlighted the Download Booster feature which allows you to download files really fast by using Wi-Fi and LTE together. A number of new S5 owners are reporting the feature missing in action and that's because AT&T, Verizon, and Sprint have removed it.
Workarounds:
A casual scan of forums and article comments reveals that lag is the subject of much debate when it comes to the Galaxy S5. A significant number of owners feel that the Galaxy S5 lags when compared to the competition and the blame is generally leveled at Samsung's TouchWiz user interface and bloatware. What we're talking about here is perceived delays when you load up or exit an app, when you unlock the phone, when you tap the Home button, or perhaps when you're typing.
Workarounds:
Potential solution:
Problems with water damage, camera, beeping, and more
Unfortunately a lot of people read water resistant as waterproof and there's definitely a difference. We've seen lots or reports cropping up about people with water damaged Galaxy S5 handsets. That IP67 rating means that it can be submerged in water up to a depth of 1 meter for up to 30 minutes. It isn't designed to deal with high pressure water jets, and that could mean the water coming out of your faucet.
Workaround:
Potential solutions:
Are you finding that the camera takes a long time to focus and capture your photo? The Galaxy S5 should have a snappy shooter, so this may be down to your camera settings.
Potential solution:
Some people are reporting that they get a pop-up when they try to start the camera which says "Warning: Camera failed" and the camera won't load up at all.
Potential solutions:
Updated on 4-25-2014 by Jeffrey Van Camp: Samsung has acknowledged the camera bug and advises anyone who suffers from it to call 1-888-897-4357. Verizon users can also contact @vzwsupport on Twitter.
Quite a few people have been getting irritated by the S5 emitting beeping sounds, seemingly at random. There is always a reason for the beeps, but it's often not entirely clear what the reason is. Here are a few things worth checking:
Potential solutions:
There have been many complaints about poor battery life since the S5 was released, but a number of people have noticed a serious downturn since the Android 5.0 Lollipop update. Much depends on how you use your phone, but there are several things you can do to make that battery last a bit longer.
Potential solutions:
Problems with Home button, updates, apps crashing, and more
Some people are suffering with a glitch where they press the Home button and instead of going home it brings up Google search.
Potential fixes:
A number of Galaxy S5 owners have run into a problem with installing updates. The update may continually fail, usually with the error message "Install interrupted. The software update could not be installed."
Potential solutions:
A few people have run into an issue with using the Play Store where they get a message popping up that says "Background data disabled, Google Play Store needs background data to be enabled."
Potential solutions:
If you find that apps on your Galaxy S5 are crashing a lot and freezing up or dumping you back to the home screen, there are a few things you can try to sort it out.
Potential solutions:
A lot of people have been having MicroSD card problems with the Galaxy S5. You may be getting the message "SD Card has been removed unexpectedly," or perhaps some of the files are inaccessible, or they've disappeared. It's also pretty common for MicroSD cards to get corrupted, and you might be concerned about lost files.
Potential solutions:
————
That's all the Galaxy S5 problems we have for now, but we will add more as they arise. In the meantime, make sure that scratches and drops aren't a problem with one of the best Galaxy S5 cases, and get a little more from your phone with our Galaxy S5 accessories roundup.
Updated on 11-3-2015 by Simon Hill: Added new solutions for contacts and lag issues, and new problems with apps crashing, and MicroSD card.
Updated on 7-27-2015 by Simon Hill: Added problems with random beeping, battery life, Home button, installing update, and background data.
Updated on 3-27-2015 by Simon Hill: Added problems with missing notifications and music controls, insufficient storage for new apps or updates, echo through speaker, not receiving text messages, contacts stopped working bug, and overheating.
Updated on 10-2-2014 by Simon Hill: Added problem with charging S5, glitch with touchscreen, Wi-Fi connection problem, Bluetooth issue, and music stuttering bug.
Updated on 07-01-2014 by Simon Hill: Updated to add blank screen bug, can't hear caller problem, and missing menu button.
Article originally published 4-23-2014.