It might be made entirely from plastic, but the G30 certainly looks the part. The screen takes up the entire front of the phone, while the rear is delightfully minimal – just a Motorola logo that acts as a fingerprint sensor and the chunky camera module.
The shiny finish hides fingerprints well, and if you aren't besotted by the purple hue of our review sample, Motorola will also sell you one in black. Does the off-centre camera bulge try a little too hard to mimic last year's Samsung Galaxy S20? Maybe, but as it makes this sub-£200 phone look like a much more expensive one, we'll give it a free pass.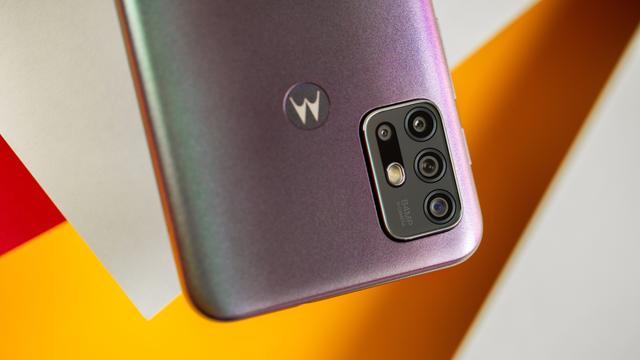 At 200g it's a hefty bit of kit, and large enough it'll poke out of a lot of jeans pockets, but the skinny screen aspect ratio means it's not uncomfortable to hold.
It's a 4G phone, but that's hardly a surprise at the bargain basement end of the smartphone spectrum, but Motorola hasn't skimped elsewhere: a 3.5mm headphone jack is a welcome addition, and NFC is onboard.
Given the tech's lack of popularity in China, it's frequently missing on budget handsets from the region, so thumbs up for its inclusion here. The dedicated Google Assistant button might come in handy, if you have dexterous digits.
It's a little too high up the side of the phone to be comfortable – or a lot too high if you're left-handed. There's also no way to customise it: a double-tap or press and hold to launch certain apps would have been a nice little bonus.