One out of every ten cars sold by Hyundai in Europe is an all-electric Ioniq 5 crossover, the South Korean carmaker reported on Thursday.
With 14% of its sales now all-electric on the continent, Hyundai is crediting this increase largely to the new and multi-award winning Ioniq 5, and it has already sold 8,137 Ioniq 5s in the first two months of 2022, helping it to double EV sales from the same period in 2021.
Michael Cole, president and CEO for Hyundai in Europe, said the latest sales results signal a massive shift to electric transport.
"Zero-emission mobility is no longer a trend; it has become a necessity," he said in a statement.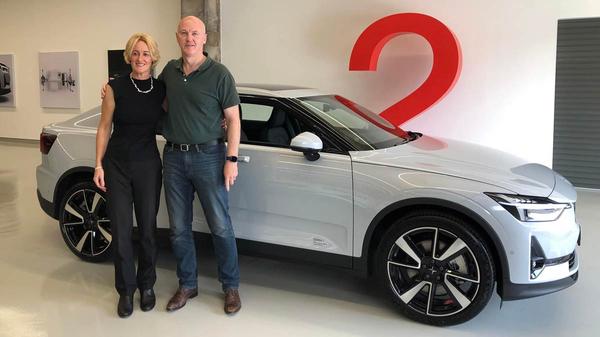 "Ioniq 5, the ten-time 'Car of the Year' winner across Europe, is a clear proof point. By offering smart and attractive mobility solutions with zero and low emissions at the tailpipe, we are not only exceeding our emissions targets, but are helping protect the environment."
Hyundai is clearly pleased by its January and February sales results, which are now in line with Europe's overall battery electric sales for 2021.
Having nabbed awards across Europe and other corners of the globe since it was introduced in early 2021, the Ioniq 5 has been hailed as a major step forward in mobility thanks largely to its dedicated e-GMP EV platform that offers unprecedented interior space, ultra-fast 350kW charging and a bi-directional charging ability.
The latter is known as vehicle-to-load (V2L), and it allows its passengers to charge devices such as laptops, kettles – and most appliances in the home – from inside the car (and outside if choosing the optional external plug).
With a top power rate of 3.6kW, it has already been used to power high-pressure Gernis to help clean up after the flood disaster that hit South East Queensland and Northern NSW in early March.
Both Hyundai and Kia have enjoyed recent gains in Europe, having nabbed #1 and #2 status in terms of market share growth last year according to the European Automobile Manufacturers' Association (EAMA).
Bridie Schmidt
Bridie Schmidt is associate editor for The Driven, sister site of Renew Economy. She has been writing about electric vehicles since 2018, and has a keen interest in the role that zero-emissions transport has to play in sustainability. She has participated in podcasts such as Download This Show with Marc Fennell and Shirtloads of Science with Karl Kruszelnicki and is co-organiser of the Northern Rivers Electric Vehicle Forum. Bridie also owns a Tesla Model 3 and has it available for hire on evee.com.au.