Zepp Health Corporation (NYSE:ZEPP)Q4 2021 Earnings Conference Call March 17, 20228:00 AM ET
Company Participants
Wang Huang – Chairman of Board of Directors, Chief Executive Officer
Leon Deng – Chief Financial Officer
Grace Zhang – Director Investor Relations
Conference Call Participants
Kevin Chen – China Renaissance
Clive Cheung – Credit Suisse
Andre Lin – Citi
Operator
Hello, ladies and gentlemen. Thank you for standing by for ZEPP Health Corporation's Fourth Quarter and Full Year 2021 Earnings Conference Call. At this time, all participants are in listen-only mode. Today's conference call is being recorded. I will now turn the call over to your host, Ms. Grace Zhang, Director of Investor Relations for the Company. Please go ahead, Grace.
Grace Zhang
Hello, everyone. And welcome to ZEPP Health Corporation's Fourth Quarter and Full Year 2021 Earnings Conference Call. The company's financial and operating results were issued in our press release via News Wire Services earlier today and are posted online. You can also view the earnings press release and the slides which we will refer on this call by visiting the IR section of the company's website:www.ir.zepp.com. Participating in today's call are Mr. Wang Huang, our Chairman of the Board of Directors and Chief Executive Officer, and Mr. Leon Cheng Deng, our Chief Financial Officer. The company's management will begin with prepared remarks and the call will conclude with a Q&A session.
Before we continue, please note that today's discussion will contain forward-looking statements under the Safe Harbor Provision of the U.S. Private Securities Litigation Reform Act of 1995. Forward-looking statements involve inherent risks and uncertainties. As such, the company's actual results may be materially different from the views expressed today. Further information regarding this and other risks and uncertainties is included in the company's Annual Report on Form 20-F for the fiscal year ended December 31, 2020, and other filings as filed with U.S. Securities and Exchange Commission.
The company does not assume any obligation to update any forward-looking statements, except as required under [Indiscernible] law. Please also note that Zepp's earnings press release and this conference call include discussions of unaudited GAAP financial information, as well as unaudited non-GAAP financial information. Zepp's press release contains reconciliation of the unaudited non-GAAP measures to the unaudited most directly comparable GAAP marrows. I'll now turn the call over to our CEO, Mr. Huang. Please go ahead.
Wang Huang
Hello, everyone. Thank you for joining our call. In 2021 we made a significant [Indiscernible] despite the challenging macro environment, our full-year revenue reached 612.5 billion RMB as we [Indiscernible] our coal growth strategies in this markets consumer health and fitness sector. We maintained our profitability and, at the same time, grew our self-branded products shipments by 60% during the past year in the face of worldwide ship shortages, as well as the Delta and Omicron COVID variants.
In the second half of 2021, we are very proud of that, as of that first quarter of 2021, we have cumulatively shipped over to 200 million health management devices since our inception. These achievements reflect our increasing global appear and our dedication to improving our users lives through technological advancements. Let me expand on our global progress. The momentum of our overseas expansion remains robust with over 80% of our self-branded products sourced internationally. Notably, our self-branded products shipment volumes for the North American region increased by approximately 200% year-over-year.
As we enter major retail sales channels including more than 1,000 offline Target stores as well as QEC. As for European markets, our shipments to Italy and France increased by more than 100% in the fourth quarter, thanks to our country's specific strategy. We are now ranked number 5 in the Adults Smartwatch Market according to the fourth quarter, 2021 IDC market data. We have been among the top 5 in the global market top for several quarters, demonstrating our enhanced product capability and flourishing branded recognition in the growing Smart Watch Industry. As we work to enlarge our global footprint, we remain steadfast in our mission to connect health with technology.
To the end, we continue to develop priority technologies, including AI chips, biometric sensors, and data algorithms to improve user experience and create new usage scenarios as we grow our portfolio of Smart health devices for consumers. For example, to further optimize user experience, we will soon launch an AI sleep service to help users with sleeping disorders. Based on our powerful AI algorithms, our Zepp app, will compose and will command high quality music designed to enhance sleep quality, improving user's sleep hygiene, and overall health and wellness. In addition, these algorithms-based users services are playing an integral role in expanding our smart health ecosystem. As Zepp Health user base continues to grow, surpassing 40 million active users by the end of 2021.
We are also exploring opportunities in the industrial health segment, including investments in Promaxo and Neuro42, which has bolstered our foothold in imaging technology. We entered the portable MRI business to advance the same mission that drive our smart wearable business, to empower our users to quantify their health data, which can assist them in managing health conditions, and potentially to help detect earlier warning signs for certain diseases. In the future, we plan to integrate these investments along with our data analysis and smart wearable business into our extensive healthcare services, [Indiscernible] a critical need and creating value for our users. Now, turning to our smart wearable business.
Our newly launched GT 3 series smartwatches, which are our first products incorporating blood pressure measuring functionality, which is currently under review by the NMPA National Medical Products Administration of China, and we already achieved initial results in this process. They have exceeded our expectation in terms of market. like [Indiscernible] and product [Indiscernible] and have sold exceptionary well. Ranking number one in both JD and [Indiscernible] smartwatch category immediately after we commenced sales. In addition, the [Indiscernible] was named editor's recommended smartwatch by Germany's Brigitte Magazine.
Not only our smartwatch is attracting some consumer attention and [Indiscernible] our other products are our also rapidly gaining popularity and industry recognition. For example, our wireless active noise cancellation has that Amazfit PowerBuds Pro received an honorary award in the health and wellness categories at the CES 2022 innovation awards. Our progress in 2021 went far beyond our hardware products. In terms of technology achievements, we unveiled our Huangshan 2s chip in July. The first wearable artificial intelligence processor, [Indiscernible] architecture. It's super power core computing performance can support high load calculations such as graphics and UI operation with low power consumption. We also released our Zepp OS in the fourth quarter, one of the industry's most compact and energy efficient smart watch operating system, at 55 megabytes, about 128th the size of Apple's watch OS.
Furthermore, Zepp OS serves as the foundation for our open mini-program framework. Which we envision will comprise thousands of developers and countless mini smartwatch education. Our goal is to form a comprehensive Zepp OS ecosystem. That will empower our users to manage their health more efficiently and enjoy their lives to the fullest. Our [Indiscernible], to sell me has been truthful, achieving many impressive milestones over the years. As you may have seen, rename the Amazfit app to Zepp live, to optimize the user experience. The Zepp live app, we inherit tenths of millions of the Mi Band users and offer them more comprehensive services, such as the flip service we mentioned earlier. Going forward, the Zepp live app and Xiaomi health and sports app, view both the Mi Band users.
Moreover, the Mi Band 7 will be launched this year as expected. And we will further expand our corporation to Xiaomi from smart bands and smart scale part of, to future chips and sensors. Together with Xiaomi, we look forward to bringing more innovation to all of our users. I would like to conclude by saying that I'm Incredibly proud of our team, which has persevered and excelled against the backdrop of a very challenging two-year period. This obstacle, however, has made us stronger. Today, our brand recognition along with our sales and distribution outreach has expanded considerably compared with two years ago. In 2022, we will continue to build our own brand and enhance our product experience as we pursue a path of vertical integration, relentlessly working to strengthen our capabilities in chips, cloud services, algorithms, operating systems and products.
In the meantime, we also extend our reach to other health and medical related hardware, and introduce our brand-new health subscription service, which altogether will lead us to a new stage as a company offering comprehensive healthcare solutions and services. I remain confident in Zepp's future as we continue to lead the industry in technology and product innovation, and bring better health through technology to all of our users. Lastly, we are pleased to announce a special cash dividend of US$0.025 per ordinary share or US$0.1 per ADS to thank our shareholders for their ongoing support as well as the continuation of our share buyback program. We are convinced that as we strive to execute our strategy, we will maximize our shareholders ' value in the long term. Thank you all. With that, I will now turn the call over to Leon who will review the highlights of our fourth quarter financial results.
Leon Deng
Thank you, Huang. I would like to start by highlighting some of the key metrics driving that development. As Wang mentioned, our full-year 2021 revenue was 6.25 billion RMB, representing 1% in comparable revenue growth. Our self-branded products played an important role in our 2021 results. As our full-year shipments increased by 60% despite the challenges of surging COVID -19 outbreaks and the chip shortage, which impacted shipments of both our self-branded wearables and Xiaomi wearable products.
Although we cannot fully predict how the supply chain issues will evolve, we're hopeful that we'll start seeing improvements in the second half of 2022. While we see net increase in unit shipments of our brands, this growth was offset by a decrease in unit shipments of Xiaomi wearable products. Xiaomi remains as our valued partner and our Mi Band still ranks number one in market share with 35.6% of the total global smart band market. At the same time, we're also excited to expand and diversify our business and build our own brand, with the goal of achieving sustainable, long-term growth. Total revenue in Q4 was RMB 1.7 billion, representing a nominal year-over-year decrease of 15.8%. Again, this decrease was mostly driven by the decrease in bad sales. In the meantime, COVID-19 and ship shortages also constrained the growth of our self-branded products.
Like many other companies, we have been facing ongoing external challenges since the second half of 2021, many of which still persist today. COVID-19 not only impacted ourselves due to wide spread our offline store closures, especially during the holiday seasons, but also dampened our courier services. For example, with the January 2022 lock-down of China's Jilin and Shenzhen parts, which are critical to our global supply chain and product availability, disrupted deliveries and sales worldwide. Moreover, the global semiconductor shortage constrained our supply chain, particularly because many big semiconductor producers are prioritizing the auto-industry EV customers and the manufacturers. All of these factors negatively influence our Q4 and full-year 2021 performance, and some continues into 2022. I have to say that we're very proud of our self-branded products growth, especially in light of all these headwinds.
Our self-branded products contributed over 47% of total revenue compared to 31% in 2020, as well as over half of our gross profit in fiscal year 2021. We believe our self-branded products will continue to gain momentum as we further develop our product capabilities and enhance our brands market recognition globally. Now, let's look at gross margin, which can be affected by product mix, product launch timing, and product life cycles, including model upgrades. Our fourth-quarter 2021 gross margin was 19.3%, a slight improvement of 30 basis points compared with the same period of 2020. This improvement was supported by refinements of our product mix, including net increasing proportion of self-branded products which contributed over 60% of total gross profit in Q4. Turning now to costs.
Operating expenses have been a key focus of mine since joining the company in the third quarter of 2020, both in terms of absolute numbers, as well as a percentage of sales. A portion of operating expenses are fixed, so it takes time and creativity to gradually reduce this expenses, while we'll have to carefully balance cost controls with expenditures to fuel growth. I'm pleased to report that we have already seen a decreasing trend in total operating expenses since Q3, 2020. That will continue to be my focus. Going forward, we'll continue to maintain operating expenses at approximately their current costs levels in order to drive profitability. First-quarter 2021, operating expenses decreased slightly in absolute terms compared with the same period in 2020.
However, at 18.7% of sales, they represented a percentage increase when compared with the fourth quarter of 2020, during which operating expenses were 15.8% of sales. This was mostly driven by the growth in our sales and marketing expenses in the first quarter of 2021, which increased by 30.2% year-over-year, representing 9.2% of sales compared with 5.9% of sales for the same period in 2020. This relative increase reflects our efforts to fuel growth, including brand building initiatives such as up your game campaign, designed to drive the global growth of our self-branded Amazfit and death wearables, as well as the launch of our GT3 series of smartwatches.
Furthermore, we carefully managed our research and development cost, as well as G&A expenses in the fourth quarter. We're still investing in R&D, sales and marketing, and G&A to support growth, but we have taken a more balanced approach to these expenses. To that end, R&D expenses were down 27.6% year-over-year, representing 5.6% of sales for the fourth quarter of 2021, compared with 6.6% for the same period last year. This reflects effective expense control in the company's R&D activities, as well as the recognition of certain government subsidies. Our G&A expenses year-on-year is flat, attributed to our effective cost control of operating activities. We'll continue to refine this balanced strategy of supporting our brand building efforts and growth, while controlling cost as we progress through 2022. Next, let's look at net profit, which was lower than last year as a result of higher relative expenses as a percentage of sales, as well as lower other business income due to our RMB56.5 million partial selldown of equity stake in [Indiscernible], a leading electric toothbrush company in 2020.
Consequently, net income attributed to ZEPP Health for the fourth quarter of 2021 was RMB 36 million, compared with RMB 150 million in the fourth quarter of 2020. Thanks to our implementation of more exacting working capital management practices, our balance of cash and cash equivalents remains strong, improving to RMB 1.47 billion as of December 31, 2021, our working capital ratio also continued to strengthen. In 2021, the Board approved the deployment of up to USD 20 million as part of a share repurchase program. So far, we have repurchased $6 million worth of shares. Given our confidence in our growth strategy as financial trajectory, we'll continue with this program.
As Wang mentioned earlier, we also announced a one-off dividend program of approximately RMB 40 million, equivalent to 29% of our full-year 2021 net income, which will found with our current cash-on-hand. I'd like to finish by addressing some key considerations reflected in our guidance for the first quarter of 2022. The supply chain challenges resulting from chip shortages and delivery uncertainties from the fresh Q1, China's COVID, lockdowns cost us to continue to guide conservatively. In addition, from a seasonality perspective, the first quarter typically generates the lowest [Indiscernible] off revenue for the company after the strong holiday season. And consumer anticipation of Xiaomi's new wearable products in the second quarter may negatively impact our Q1 sales.
Given the seasonality and supply chain issues, I already mentioned, as well as the uncertainties surrounding the conflict between Russia and Ukraine. For the first quarter of '22, we currently expect net revenues to be between RMB 0.75 billion and RMB 1 billion, compared with RMB 1.15 billion for the first quarter of 2021. Given this outlook, we will continue to apply 2021 strict cost control measures into 2022. That outlook is based on our current market conditions and reflects the company's management's current and preliminary estimates of market and operating conditions and customer demand, which are all subject to change. This concludes our prepared remarks, will now open the call to questions. Operator, please go ahead.
Question-and-Answer Session
Operator
We will now begin the question-and-answer session. [Operator Instructions]. For the benefit of all participants on today's call, if you wish to ask your question to the company's management in Chinese, please immediately repeat your question in English. At this time, we will pause momentarily to assemble our roster. The first question is from Yalin Lou (ph) of TNA Securities. Please go ahead.
Unidentified Analyst
Hi management. Thank you for taking my question. And congratulations for fourth quarter. I have two questions. Firstly, about your gross margin. We know since the beginning of the year, we see semiconductor shortage driven isn't any our courage some product company's gross margin decrease affected by the chip shortage, in this quarter, about bases in-house gross margin increased year over year, I think this beyond my expectation, can you shares on view about chip shortage impact on your gross margin and any progress about your function chip, thank you.
Leon Deng
Yes. No, thank you for the question. On the gross margin I think, the answer is to points. Number 1, we actually proactively changed our mix towards proportionately focused on the self-branded products which carriers on average twice the gross margin if we sell our Xiaomi branded products, right? So, if you look at 2020, we have the mix which is more skewed towards 70% of Xiaomi products and 30% of self-branded products. And while we end the year of 2021, we're actually hovering around half half and then the self-branded products trend will also continue to grow into 2022. So because of that change, then you get a mix improvement on the overall gross margin. Coming back to your question on the chip shortage, we have announced in the previous quarters that we did certain risk buys ahead of this situation materialize, which also has an impact on our inventory level. But as mid to short term, we didn't see too much of a material impact on the gross margin because of the risk by with it.
On the function two chip, the progress is twice -- is progressing very well according to our schedule. So in this year, you will later this year that there are certain flagship products which we're going to launch as a new product introduction, which will carry the Huangshan 2 chip. And then at the same time, we're also going to license a variant of the Huangshan 2 chip to a bigger variety of Chinese watch makers through our ITO investments, because we license this also to them, and we're also going to get certain profit out of that licensing deal as well.
Unidentified Analyst
Okay. A follow-up question about your gross margin, [Indiscernible] your boast Xiaomi products and sales brand product to gross margin is decreased but mix is better this quarter?
Wang Huang
So, I think Xiaomi gross margin has been a decreasing trend for the company for a few years, right? A phase you probably also read the news that Xiaomi is actually targeting a cost plus 5%, something like that, right? So Xiaomi 's gross margin is actually in the low teens, that type of number and that has decreased quarter-over-quarter by one percentage point, something like that. But our self-branded gross margin has been quite strong and hold up over the year.
Unidentified Analyst
Okay. And my second question is about your marketing strategy. The global environment is more uncertain this year. So what's your marketing strategy changes in this year to -- in this global environment.
Wang Huang
So, I think the short answer to it is no, but we do see the risk of Russia and Ukraine situation, which we also mentioned in our earnings call. We have a strong market share in Russia and Ukraine, and all those neighborhood countries. And to be honest, Russia and Ukraine's revenue, if I take 2021 full year as the basis, they stand for around 4% of our total revenue, right? So that risk, we need to manage, in short to mid-terms we think we can still manage that risk. But if this war continues into our drag down for a year or two, that definitely will have an impact on our revenue per se. But we're slightly different than the other China tech company, because majority of our self-branded products are overseas sales, so China actually stands for only a small portion of our overall mix.
So, to that end, apart from Russia and Ukraine, our marketing strategy in Western Europe, which is actually a strong foothold of our revenue, and also United States didn't change, and that will continue to grow.
Unidentified Analyst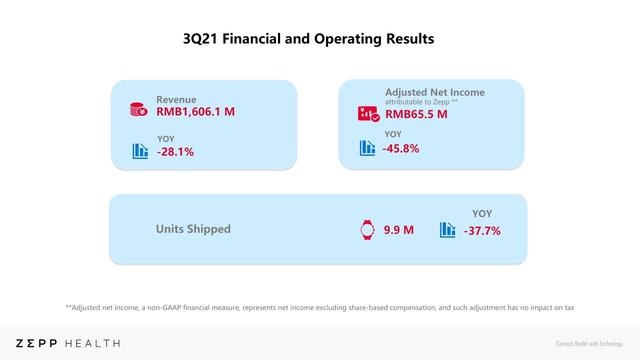 Okay. Thank you.
Wang Huang
Thank you.
Operator
Okay. [Operator Instructions]. The next question is from Kevin Chen of China Ren. Please go ahead.
Kevin Chen
Hello, hi. Thank you, management, for taking my question. I have two questions. Number one will be regarding your newly launched GT 3 series. I was just wondering how the sales do, and the sales condition and general feedback so far is tracking. And how is it matching up to your expectations, is it better than expected or slightly lagging behind.
Leon Deng
Kevin. Thank you for your questions. Now, on GT3 as Wang mentioned earlier, it's actually a very successful product. And we received a lot of good reviews in China and in overseas markets for this product. So, if you compare the GT3 against our own expectations, I think you've probably also heard that we are a little bit [Indiscernible] the chip shortage and logistics challenges in Q4, I think we're not in, the month problem. We're more having a supply problem for GT3. Compare with our own internal expectation, we think we can still do much, much more. But we're actually hurt a little bit by the COVID logistic disruptions in Q4. And that also continues a little bit into Q1. But if you, ask me, if the product is a big success, I think the product is really a big success. And we, through the launch of the GT3, we also see that we have the room to improve our ASP further not only in China, but also in overseas market. And that will also, in a longer run, help us to lift our gross margin of the company.
Kevin Chen
Right. Thank you. Just a quick follow-up. I think previously, the Chairman just mentioned that the GT3 series is being under review for China's NMPA, just for -- I guess this is for qualification for more medical application kind of use. I was just wondering, do we have an expectation of approximate timeline of how this review might turn out, and once we obtained this kind of approval with this enable our new business opportunities in the GT Series?
Wang Huang
Yes, for sure. I think what we also mentioned, that we're not only doing it for the Chinese market, we're also doing it for the European market and also for U.S., right. So we're actually doing the certification at multiple geographies at the same time. So that -- it's related to the blood pressure movement, which you have measure using our GT 3 watch, your blood pressure, which we think is actually a very unique and elegant solution compared with our competitors, right. So, yes, the Chinese review, I think it's going to be much shorter timeline because there's going to for example, either it's going to be a software and algorithms certification. So we expect that approval should be able to obtain by somewhere in the course of this year. And then the CE and FDA review might take a little bit longer, but should not be too much longer. And then whilst we get those certifications, for sure that will give us [Indiscernible] offering new services, and also a new unique selling point versus the peers.
Kevin Chen
Okay. Got it. That's good to hear. My second question is regarding the European market as we hope, because I think previously you mentioned the situation in Russia and Ukraine right now. I was just wondering what about for the rest of Europe. Do you see any changes in consumer demand or just right now we are facing more of a logistical issue for these markets,
Leon Deng
Yeah no, I think apart from Russia and Ukraine, we're actually seeing a very healthy growth for the Western European markets. So needless to say, that we are already market leader in countries like Italy and Spain, we are actually expanding very fast in countries like Eastern Europe for example, Poland, Czech Republic, as well as in the very strong foothold of Western Europe like Germany, UK, [Indiscernible], Nordics, we still think that there's going to be a lot of potential in Europe for us to grow because we have different product offerings and we have many exciting product offerings which are targeting more at sports and outdoor activities, which we're going to launch very soon. So hopefully with this new mix of new product introductions, we're able to grow our European market even bigger than what it is now.
Kevin Chen
Right. Thank you, very clear. Thank you.
Operator
The next question is from Clive Chong of Credit Suisse, please go ahead.
Clive Cheung
I thank your management for taking my question. My first question is on Xiaomi. Obviously, we continue to see the downtrend there in terms of Xiaomi product shipments. Trying to get a sense of management view on -- specifically on kind of the risks there and products. Do you see the end of the cycle or do you think it is just extension of the replacement cycle that is driving the slowdown of this shipments. And the second part to that question is with our discussion, with Xiaomi on the new products, could we get a sense, is that going to be a volume driver that could bring us back to previous -- shipment levers of previous years or is just a variation of kind of current product types and extending the product type a little bit longer? Thank you. That's my first question.
Leon Deng
Okay. First, let me just comment on the Xiaomi relationship. You know that we actually sign the Xiaomi contract every three years. And then last year, we just renewed the new three-year period. So the relationship with Xiaomi is very strong. And we actually also have different co-operations with Xiaomi beyond the band and the different algorithms which we're working with them, right. So Xiaomi stays as a big shareholder of us and we have a lot of co-operations with Xiaomi. So that's the first thing I can guarantee you. On the Xiaomi new products, I think I touched this point. If you read the announcements which Xiaomi also published yesterday on the name change for that life, we also mentioned that we're going to explore more into the chips for the wearable, as well as the use of different algorithms and as well as the new form factor of products. And here forgive me, I cannot say too much, but definitely we want to actually drive the Xiaomi sales and continue with this relationship much further than what it is now.
That's on Xiaomi and coming back on the Mi Band and the overall band market decline, I think, yes. I have mentioned that a few quarters already. We see overall band market as the form factor. That the market has been in decline for a few quarters already. And then yes, maybe it's coming to [Indiscernible] and it is going to be flat all over it. That's what we hoped for. But I think you are more looking at flatten out or slide slightly declined type of situation for the Band market. But at the same time, I felt what we mentioned in the earnings release as well on the specific Band market and market share for Xiaomi band. We stay still at 35%, which is by far crushing every other competitor, right? So I hope this would give you a feeling for what it is.
Clive Cheung
Yes, it does. Thank you very much. And my second question is on the R&D. Obviously, you have turned it down a little bit as a percentage of revenue. And I would just like to ask is -- do you think the kind of toning down was because it was elevated in prior years or -- and in fact, does that -- obviously, one of key advantages or key competitive advantages is in your research in developing those healthcare chipsets, and does this impact going forward or kind of research levels. Thank you.
Wang Huang
I think I think yes, R&D has this -- is very much linked into the new product introduction as well, right? And different years we have different cadence, when we released our new products, for example, Q3 2020 was a very new product introduction rich type of quarter, than our R&D expenses in that quarter was extremely high. But seems we didn't have too much of new product launch in Q4, you have that GT3 was the only one which we pushed out in Q4 2021. So that's why also R&D expenses by nature, is also relatively lower compared with the same period last year. But on the other hand, we also asked the team to do and look at the return on investment on R&D developments. So instead of doing everything, and then in the end it becomes a waste, we are more prioritizing our R&D activities and using modernization, the mega plus type of approach to do the R&D activities more effectively.
So, that also is one of the main levers whereby we can actually keep our competitive advantage while at the same time keeping the cost under control. But then if you actually pull a line on R&D expenses as a percentage of sales for the overall company, I think we stay as R&D driven company because the R&D expenses as a percentage of sales for the whole year, if you divided that by our sales, it's actually by far the highest among the selling expenses and G&A expenses. So, we're still spending roughly around 8% to 9% of the sales on R&D activities, although it's going to be up and down in different quarters. But if you pull it a line, I think we still have that [indiscernible 00:46:16] versus the other companies.
Clive Cheung
Okay. Thank you very much. I actually just have one question on the COVID impact. I was wondering if there has been some more forward-looking on fourth-quarter related, in the first quarter or in the recent week, had there been any impact to our manufacturing capacity given that?
Wang Huang
Yes. No of course you're very sharp on this. Now so COVID actually posed a lot of uncertainties and negatively impacted all our results, right? In Q4, the sudden lock-down in a lot of European countries around the holiday seasons, actually dampened ourselves in the offline channels, right? So that also plays into why our numbers in Q4 was weaker than what we originally anticipated, right? And on the other hand, COVID, also create a lot of logistics nightmare for our supply chain. Talk for example, a especially and that's also one of the reasons why we guide the Q1 sales number, in a very conservative way, right? Because, as all the other Chinese company, our export route is actually through Shenzhen into Hong Kong. And then from Hong Kong goes to everywhere in the world, right? And then with the sudden lock down in Shenzhen and all the logistics flow also stopped.
That actually post a lot of logistic challenge and supply chain nightmares to our team, so that's why we kind of guided a relatively lower number on our guidance for Q1. So yes, COVID definitely has an impact in the past, it was more on the overseas market. And now, if I look at Q1 and Q2, the zero - COVID policy in China definitely actually disrupted the supply chain and the manufacturing a little bit for us. But then as I said, also our supply chain team is looking for other different ways to resolve this situation. But that obviously takes time and would have played into some more conservativeness in our guidance going forward. But we think this situation should be much better as we entered the second half of this year.
Clive Cheung
Thank you very much. Very clear. Thank you.
Operator
The next question is from Andre Lin of Citi. Please go ahead.
Andre Lin
Thank you for taking my question. And I have a follow-up question on the previous supply chain-related questions. And you mentioned there's a semiconductor supply challenge. So can you give us a color on how the situation is going and when do you expect the semiconductor supply challenge will all be resolved this year or next year?
Leon Deng
I think I have mentioned that in the script earlier. We think going into the second half of 2022, the situation should be resolved or much better than what it is right now. I -- Q4 was very serious. And then we did certain risk buys and we did certain commitments, we're putting a lot of chips. And that's after a month or two, I think Q1, on certain product types, we don't have a shortage issue. But then on the other hand, you will see that also more semiconductor companies are prioritizing their chips towards the EV players. So that will have certain impact into Q2 as well. So we're more constrained by the supply rather than by the demand situation. But base out the current information I have on hand, it looks like by end of Q2, so from May onwards, this situation should be reserved to a much extent.
Andre Lin
Thank you. That's [Indiscernible]. And I have a follow-up question is regarding the first quarter guidance. Can you give us a bit more color on the shipment or revenue guidance for the sales [Indiscernible] on top of the [Indiscernible] UK?
Leon Deng
No, so this -- no, we are hurt by a lot of uncertainties in Q1, so it's really a difficult quarter. That's why we guided in a very conservative way. I think you also see a lot of companies because of this, they even stop giving the guidance. But okay, we're still trying to give a range although this range is a much wider range. There are a few issues. Number one is what I mentioned before, the lockdown of Shenzhen for the upcoming seven days, and if that seven days is going to continue into a 14 or 21 days. Nobody knows. But because of that lockdown, manufacturing stopped, logistics stopped. You cannot even export the products into Hong Kong. We're looking at other ways. For example, going through Tianjin to exports the products out of China, etc. But that would not -- would definitely have a negative impact in the initial outlook we have on Q1. And actually, the last two weeks in the quarter have always been one of the biggest moments of shipping for us because Q1 has been always a slow quarter, but then towards the end of Q1, the production and shipment start to pickup, that's actually placed into the relatively conservative outlook for which we issued.
Number 2, is the Ukraine and Russia situation, as I mentioned that Ukraine and Russia place around 4% of our overall sales, so if your average it out I think every quarter, depends on the quarter, is talking about 80 million to 100 million of sales, right? And luckily we have the first month out and the second, the February sales were kind of somewhere cutting into the husks, so we actually lost the 1.5 months because of ruble depreciation and everything else. So, you need to actually, apple-to-apple comparison, strip out the impact on the sudden Russia and Ukraine situation, although at the same moment we're trying to look into different ways, in whether or not we can continue to sell into Russia.
I think the third one, it's the ship shortage, as I just mentioned and explained many times. So these three factors kind of played into the number which we put out here. If the Shenzhen lock-down will be only seven days or even within the seven days we can continue to manage to export and the shipment, I think we'll probably end up more towards the high-end of the guidance range. But if not, I think we're probably just in the middle. That's so much color I can give you.
Andre Lin
Thank you. That's very clear. Thank you very much. I have no more questions.
Operator
As there are no further questions now, I'd like to turn the call back over to the company for closing remarks.
Grace Zhang
Thank you. Once again for joining us today. If you have further questions, please feel free to contact the Investor Relations department through the contact information provided on our website or the Pearson group, the company's Investor Relations consult. Thank you.
Operator
This concludes the conference call. You may now disconnect your line. Thank you.