Vivint is a home security system available in multiple packages, making it easy to customize to your unique tastes and home.
Vivint specializes in professionally designed alarms and innovative home systems. The company makes it affordable to get a custom-built home security solution.
Does Vivint live up to the hype? What can you expect when ordering from Vivint? Please keep reading to discover everything you need to know about Vivint and its smart home security system.
What is Vivint?
Vivint is a smart home security company offering professional installation, 24/7 monitoring, and custom home security solutions.
The company offers a range of products and services to make your home secure, including everything from yard signs and window decals to indoor and outdoor cameras.
All Vivint purchases come with free professional installation. Certified Vivint experts come to your home and professionally install your camera so it works right from the start.
Vivint is designed to secure all homes – including smart homes. Vivint can interact with Amazon Alexa, Google Assistant, MyQ Garage Controller, Kwikset Smart Lock, Phillips Hue Lightbulbs, and the Nest Home Thermostat, among other smart products, to make your home security system as smart as possible.
Vivint is available in the United States and Canada. The company is based in Provo, Utah.
Vivint Benefits
There are plenty of home security companies available today. Vivint aims to differentiate itself from the competition with three unique traits:
Vivint takes care of everything for you. The company sends a professional to install your equipment. While other home security companies expect you to do the work yourself, Vivint makes it as hassle-free as possible to secure your home.
Vivint has package options for every budget, and the company offers 0% financing with many products and packages. Whether you want to spend $30 or $60 per month to secure your home, you can find a Vivint package for you.
You can customize your Vivint packages however you like. You can buy individual Vivint products. Or, you can create a package, choose a pre-built package, and pick the specific products and services you want with Vivint.
Vivint's products also have unique features we don't see with other home security systems. The outdoor cameras have lights and sound to deter crime, for example. If a package thief walks up to your doorstep and steals your package, Vivint's outdoor camera will not just record the crime: it will deter it.
Vivint Packages
You can buy individual products through Vivint. Or, you can buy one of three different packages, including:
Vivint Products
Vivint offers essential security products, cameras, security sensors, safety, environmental, and other tools.
Here are all of the Vivint products currently available:
Vivint's Basics category includes the control panel, signs, and decals:
The Vivint Smart Hub is the center of your smart home. It's a control panel that lets you arm your system, watch live camera feeds, close your garage, lock and unlock your doors, and speak to customer support. The Vivint Smart Hub has a 7″ HD touch screen. You can use the Vivint Smart Hub to see and speak with visitors at your door, 2-way talk with 24/7 monitoring, and view live and recorded video. Plus, the Vivint Smart Hub always stays connected with cellular radio and backup battery options.
The Vivint Yard Sign lets you alert others that your home is protected. Like other security systems, Vivint recommends placing the sign in a noticeable spot to deter theft.
Vivint offers window decals for the same reason they offer the yard sign. You can place the window decals on the accessible windows of your home to deter theft.
Vivint offers a lineup of cameras, including a doorbell camera, indoor camera, an outdoor camera to surround your home:
You can do more than just record crime: you can prevent it. Vivint's Doorbell Camera Pro notifies you when packages arrive and proactively protects your packages from theft. It has an industry-leading 180 degree by 180-degree field of view. Plus, the Smart Deter technology automatically detects package thieves and deters them using light and sound. The Vivint Doorbell Camera also lets you answer your door from anywhere with two-way talk, get customizable surveillance zones, and stream live and recorded video on your smartphone. There's even a night vision mode.
Vivint's Outdoor Camera Pro uses the same Smart Deter technology to identify lurkers, then send them running using a light and a whistle. The camera features night vision and a 140-degree field of view. You can also view live and recorded video, set up customizable zones, and receive notifications and alerts from your camera.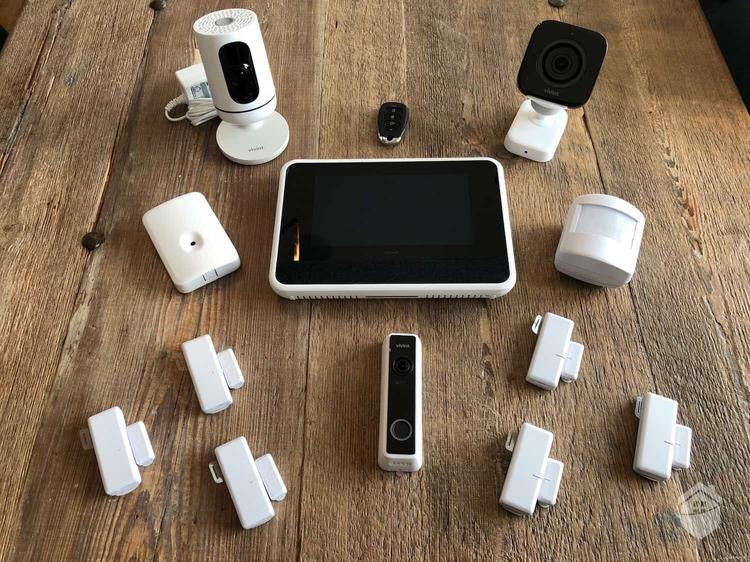 Vivint's Indoor Camera is the first indoor camera with actual two-way communication to keep you connected to your family. You can see what's happening at home, then call out to your home with the press of a button to talk to family members and pets who are away. You can check in on your home from anywhere, enjoy a two-way talk with a one-touch callout, get 20-second video clips, and view motion-detected recordings with smart clips. There's also a night vision mode.
Vivint offers security sensors to protect your home along with doorways, windows, and other points of entry:
Vivint's Glass Break Detector comes with accurate glass break detection and alerts and notifications. It's a battery-powered device you place along a window to detect broken glass. You receive an immediate alert when the device detects broken glass.
Vivint's door and window sensors add an extra layer of protection. The Vivint Door & Window Sensor works on doors, windows, cabinets, and safes, providing 24/7 monitoring and instant notifications. If windows or doors are opened when your system is armed, an alarm will sound, and you receive an alert. Upon entry, Vivint's 24/7 monitoring specialists receive a notification and are ready to help in an emergency.
Vivint's Motion Sensor detects motion within the home, sounding an alarm triggered while the system is armed. If someone is walking around your house when they're not supposed to be, then you can receive an instant alarm notification. The Vivint Motion Sensor accurately identifies unexpected movement. Plus, the system works with a smart thermostat to adjust the temperature automatically. It can also power smart plugs on and off based on motion. If you want certain things to turn on when you enter a room, then you can use the Vivint Motion Sensor to do that.
Vivint offers a lineup of safety and environment sensors, including garage door sensors, carbon monoxide detectors, smoke detectors, and emergency pendants, among other products:
Vivint's CO Detector alerts you to harmful levels of odorless carbon monoxide gas. Like other CO detectors, the Vivint CO Detector sounds an alarm when it detects carbon monoxide. If an alarm sounds, you're automatically connected with monitoring professionals who can send emergency personnel. The device is battery-powered for easy installation and repositioning.
Vivint's Emergency Pendant makes it easy to alert Vivint's monitoring team of an emergency. You wear the pendant on your wrist (using the included wrist band), around your neck (using the lanyard), or on your belt (using the included belt clip). You can also mount the pendant on a wall. The pendant has a silent alarm mode and 24/7 monitoring. Plus, it works 300 feet from your home.
Vivint's Smoke Detector is better than a traditional smoke alarm because it can tell your Vivint Smart Hub to shut off the HVAC system to slow the spread of flames when smoke is detected. A battery-powered smoke alarm alerts the Vivint monitoring team if smoke is detected. It also automatically unlocks doors in an emergency. Plus, you get instant app and panel notifications whether you're home or away when smoke is detected.
Vivint's Garage Door Sensor lets you remotely monitor garages, hatches, roll-up doors, and other tilting sources. You place the sensor on a surface that tilts, then receive an alert whenever that surface tilts. The sensors measure whether an item is level or flat, depending on your settings. When the sensor detects a change, you receive an alarm notification.
Vivint's Car Guard can be installed in your vehicle to protect your vehicle. You can get disturbance alerts, track the location of your automobile, and get crash detection notifications – all from your phone. You can also receive diagnostics and maintenance alerts to ensure optimal vehicle performance. The Car Guard also syncs with the rest of your Vivint system, giving you one app for homes and vehicles.
Combine a smoke and CO monitor into one convenient device for added protection. It integrates with existing detectors for added security. Like the smoke monitor, it can also adjust your HVAC system when an alarm is triggered, provide 24/7 emergency alerts, and send instant app and panel notifications whether you're home or away.
Want to receive an alert when there's a water leak or freezing temperatures at your home? The Vivint Water Sensor can do that. The Vivint Water Sensor lets you act early to prevent damage and save money. You get instant notifications, a battery-powered device, and a compact design to help you prevent extensive water damage before it occurs. Place the instrument anywhere water may be detected (underneath a sink or near a clothes washer) to protect your home.
Vivint offers two energy products, including a smart plug and a smart thermostat:
The Vivint Smart Plug lets you use the Vivint app to turn off lamps and other electronics. You can also use the Vivint Smart Hub or your voice to turn electronics on and off. You can create custom light schedules, turn lights off and on from anywhere, and integrate your electronics fully with the Vivint system to create a smart home.
Vivint's Smart Thermostat lets you keep your home temperature at the perfect level wherever you go. The thermostat works with sensors in your home, automatically adjusting temperature based on your preferences – regardless of whether you're home or away. Vivint's Smart Assist automatically adjusts the temperature to your preferred settings, while the touch display illuminates upon approach for easy changes. You can also pair the Vivint Smart Thermostat with a smart assistant to control your device with voice commands.
Vivint's access devices let you control access to your home, grant entry to other people, and secure your home while integrating it with the Vivint system:
The Vivint Key Fob allows you to arm and disarm the system on the go, send a panic signal to the panel when needed with the press of a button, and ensure your system is always active and accessible. It works up to 100 feet from your home, and it's water-resistant.
The Kwikset Smart Lock lets you secure your home and take control of your locks from anywhere. Available in multiple colors, the Kwikset Smart Lock connects with your Vivint system, allowing you to control locks remotely. You can also create up to 30 unique access codes, get notified of door activity, and lock your doors with a touch.
The myQ Smart Garage Hub lets you know if your garage is open or closed while controlling it from anywhere. For example, you can automatically close your garage door when the system is armed. Or, you can set up a schedule for your garage door or automatically close the garage door when your car leaves your home (via the CarGuard command).
Vivint Reviews: What Do Customers Say?
Vivint launched in 2021 to good reviews. Although some criticize the high price of Vivint products, others like Vivint for its convenience, seamlessness, and overall effectiveness:
CNET describes Vivint as a "big brain, big price tag" home security system with an "admirable array of gadgets" for a unified user experience. CNET's reviewer enjoyed the time with the Vivint system, praising the devices for working correctly and effectively. Although Vivint had a high price tag, the reviewer admitted that many customers are willing to pay the price to avoid the hassle of installation and integration – something that's included with all Vivint purchases.
US News, meanwhile, ranked Vivint as the best professionally installed home security system of 2022, praising the company for offering a full-featured, professionally installed home security system. US News liked the convenient Vivint app for managing everything. They also appreciated the lack of long-term contracts. However, US News deducted points for mixed reviews on customer service, poor third-party device support, and the high price tag.
PCMag also liked Vivint's system, giving it an Editors' Choice award and a score of 4.5 stars out of 5. PCMag liked how Vivint provided speedy event responses, excellent video doorbell function, remote-controlled door locks and cameras, and no lengthy contract. However, they did not like requiring a monthly subscription for remote access, the inability to customize alarm sounds, and the system's high price.
Overall pros and cons of Vivint, according to reviews, include:
About Vivint
Vivint is a home security company dedicated to helping families live intelligently in safer, smarter homes. The company is based in Provo, Utah, and serves customers throughout the United States and Canada.
You can contact Vivint via the following:
Vivint Final Word
Vivint is a smart home security system that uses cameras, sensors, and other tools and products to secure your home.
To learn more about Vivint or buy Vivint today, visit the official website. Packages start at $40 per month and come with professional installation and $0 activation.
RELATED:Best Drones – Top Affordable Drone Brands to Buy
Affiliate Disclosure:
The links contained in this product review may result in a small commission if you opt to purchase the product recommended at no additional cost to you. This goes towards supporting our research and editorial team and please know we only recommend high quality products.
Disclaimer:
Please understand that any advice or guidelines revealed here are not even remotely a substitute for sound medical advice from a licensed healthcare provider. Make sure to consult with a professional physician before making any purchasing decision if you use medications or have concerns following the review details shared above. Individual results may vary as the statements made regarding these products have not been evaluated by the Food and Drug Administration. The efficacy of these products has not been confirmed by FDA-approved research. These products are not intended to diagnose, treat, cure or prevent any disease.
Gallery