Update February 5:A spokesperson for Xiaomi has posted a statement on Weibo to deal with some of the GMS-related rumors. It seems the information that has been given on a forum is not official and that some Xiaomi/Redmi phones don't come with GMS simply due to device limitations. Some domestically sold phones will still come with GMS preinstalled, and international devices are not affected at all.
Original story: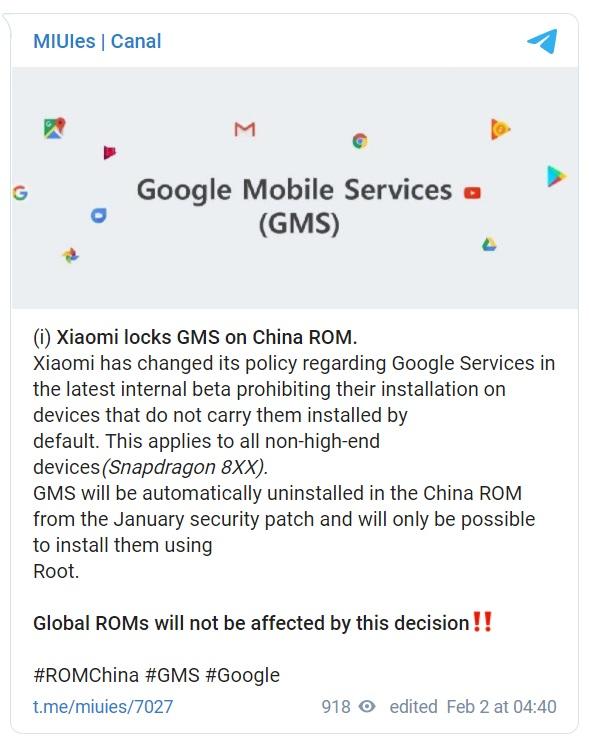 Google and its services are pretty much blocked throughout most of China, but Xiaomi and Redmi smartphone users were still able to install or sideload the massively popular apps from the US company, including the bundled GMS apps, on to their device of choice. However, it seems Xiaomi has implemented more restrictive measures on this practice, with a mod claiming on a Chinese-language forum that the change is down to "compliance reasons".
Further reports have stated that owners of low-end to midrange Xiaomi smartphones using the China ROM that don't have a Snapdragon 8xx processor and are utilizing MIUI 12.5 will now find it almost impossible to install the GMS apps. Devices that are already reportedly affected by this new policy include the Redmi K30 Ultra and Redmi 10X 5G. Both of these smartphones come with MediaTek SoCs in the forms of the Dimensity 1000+ and Dimensity 820, respectively.
Unless the smartphone already features GMS by default then Xiaomi's latest MIUI 12.5 China ROM software will block any installation attempts on unrooted devices. Global variants of Xiaomi and Redmi smartphones have been spared from this troubling turn of events, with a forum comment of "MIUI international is not affected" (machine translated) surely calming a few nerves of Xiaomi smartphone owners concerned about losing access to Google's Mobile Services.
Buy the Xiaomi Redmi Note 9 Pro with Snapdragon 720G on Amazon