New Which? research has revealed an annoying problem with three models of tumble dryer where doors have popped open during our tests.
Tumble dryers from Candy, Hoover and Hisense all failed to complete our tests without the doors springing open and the drying being halted because of this.
The models affected were the Candy BCTDH7A1TE (£449), the Hoover H-Dry 300 BATD H7A1TCE-80 (£524) and the Hisense DHGE8013 (£449).
The Candy and Hoover machines are both integrated and are very similar in appearance. The Hisense is a freestanding model and all three have the water tank in the door window.
---
To find out more about these machines and the other 15 new tumble dryers tested recently, head straight over to our tumble dryer reviews.
---
How we discovered the tumble dryer door problem
Technicians at our lab discovered that mid-cycle, the doors for all three machines popped open.
In the home, this would be inconvenient as with any open door, the dryer will stop working and so the clothes-drying job will take longer to complete.
But it could also present a minor safety concern. The insides of a tumble dryer's drum can get very hot during drying.
All three of these machines are heat-pump models, which means that they tend to dry for longer and at lower temperatures.
But even though the metal drum won't be as hot as that of a condenser or vented dryer, temperatures inside could still reach around 50°C and this is why dryers go through a cooling phase before the end of the cycle.
How we tested the three tumble dryers
The machines were loaded to 70% of their drum capacities, so they weren't full when we tested them. We do this to match how tumble dryers are used in the home.
Even with this reduced load drying inside, the doors still failed to remain securely closed throughout all of our tests.
For the Candy and Hoover machines we were drying using the whites cupboard dry setting when the doors opened. For the Hisense model, we noticed the problem when using the cotton cupboard dry setting.
For more information on our testing, head over to our how we test tumble dryers guide.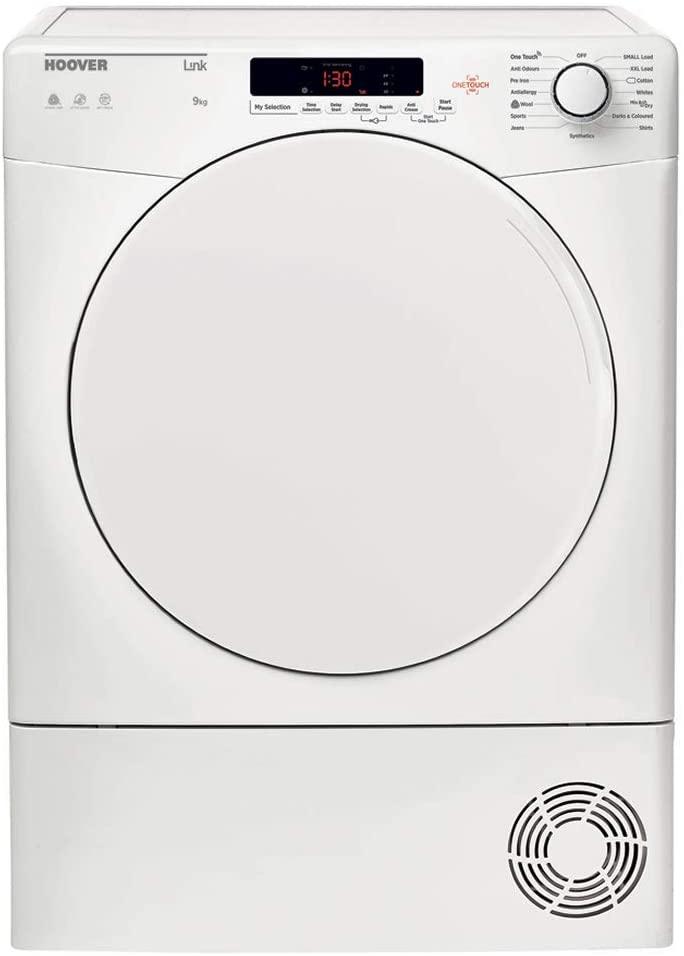 Door mounted water tank
All three models of dryer include a transparent water tank in the door window, rather than being located above or below the drum.
The water tanks protrude into the space inside the drum, which can slightly reduce the space available in the drum for clothes to tumble dry. But having this feature means that you can see when you need to empty the tank.
Why did the tumble dryer doors pop open?
At this stage it's unclear what might be causing the dryer doors to pop open.
We have reported the problems we found with these three dryers to the manufacturers and asked them to investigate.
We've explained what happened in our tests and we've provided the serial numbers for the machines to help with their investigations.
Who makes the three tumble dryers with the door problem?
Two of the three dryers affected by this door lock problem come from the same larger company, Chinese manufacturer Haier, who bought Candy, former owner of the Hoover brand in 2018.
Fascia detailing aside, as you can see in the image above, the Candy BCTDH7A1TE and the Hoover H-Dry 300 BATD H7A1TCE-80 appear to be very similar models and could be using the same components.
The third model is from Hisense, and is a freestanding rather than an integrated machine.
Sharing our findings with the manufacturers
We shared our findings with Haier (for Candy and Hoover) and Hisense.
Haier told us:
'We haven't seen this in our tests or in reports from consumers. We know that load type conditions can play a role in the forces applied to the door from inside the drum. For example, clothes getting twisted might increase the pressure.
'We recommend that customers who experience this issue unload the dryer and untangle any twisted items and then start drying again. Customers who repeatedly experience the door popping open during the cycle should contact our service team to arrange a service visit.'
Hisense hadn't provided a comment for publication as we went to press.
15 more tumble dryers tested and reviewed by Which?
We've also tested another 15 dryers recently. Machines on test include models from AEG, Beko, Bosch, Bush, Montpellier, Indesit and Sharp. Our tests have presented us with four new Best Buys.
Here's a quick look at three of the machines recently tested.
Heat-pump tumble dryers aren't famous for being affordable, but this Bush model breaks with tradition.
For £320 you'll get an affordable dryer with an A+ energy rating and room inside for 8kg of laundry.
Find out how good it is at drying clothes by reading the full Bush BCGBTD8HP tumble dryer review.
This heat pump Bosch tumble dryer only costs around £40 a year to run.
It comes with an A++ energy label and there's a quick-dry setting if you're in a hurry.
Read more about this energy-saving machine with our full review of the Bosch WTH85222GB/01.
This is a condenser dryer, so it's going to use much more energy than a heat-pump machine but the trade-off is that it will dry clothes quickly. Condenser machines like this Sharp model are more affordable to buy if not to run.
Read our review of the Sharp KD-GCB9S7GW9 to find out how well it dries clothes.
Other tumble dryers tested recently by Which?
AEG T7DBG842R, £699Beko DHY9P56VW, £549Candy CSO H9A2TE-S, £370Hoover ND H10A2TCE-80, £510Hoover HTDBWH7A1TCE-80, £400Hisense DCGE801, £320Hisense DHGE901, £399Indesit YT M11 82 X UK, £380Indesit YT M10 71 R UK, £380Montpellier MIHP70, £509New World NWCGTD8HP, £380Sharp KD-NHH8S7GW2-EN, £369
Prices correct as of 31st August 2021.