NEW YORK, Jan. 4, 2022 /PRNewswire/ -- The global digital door lock system market size is projected to reach US$ 47 Bn, exhibiting growth at 18% CAGR between 2022 and 2032, predicts Fact.MR. Emergence of novel technologies, such as big data and artificial intelligence in the smart lock industry is anticipated to drive the market in the upcoming years.
Integration of innovative technologies with digital door lock systems is likely to accelerate the demand for smart homes. Germany, for instance, is considered to be one of the most prominent smart home building countries in Europe. Sales of digital door lock systems in Germany are anticipated to reach US$ 1 Bn in 2022.
Further, rising adoption of smartphones is set to propel the digital door lock system market across the globe. Increasing usage of the mobile internet and development of the cloud infrastructure are also expected to make it possible for people to operate and monitor these door lock systems from any part of the globe.
As per the Electronic Frontiers Australia (EFA), around 88% of the population owns a smartphone in Australia. Hence, the country is considered to be one of the earliest adopters of such technology.
For Critical Insights On This Market, Request For More Infohttps://www.factmr.com/connectus/sample?flag=S&rep_id=409
"Increasing usage of weather resistant digital door lock systems for protecting outdoor spaces is anticipated to fuel the growth. In addition, constant enhancement of external door locks of the government buildings for security purposes is expected to drive the demand," says a Fact.MR analyst.
Key Takeaways:
Growth Drivers:
Restraints:
To learn more aboutDigital Door Lock SystemMarket, you can get in touch with our Analyst athttps://www.factmr.com/connectus/sample?flag=AE&rep_id=409
Competitive Landscape
Key players operating in the digital door lock system market are focusing on introducing unique products to broaden their portfolios and strengthen their positions. Meanwhile, some of the other players are aiming to expand their distribution networks and provide additional features to customers for gaining a competitive edge in the market.
For instance,
Key Players in the Digital Door Lock System Market Include:
More Valuable Insights on Digital Door Lock System Market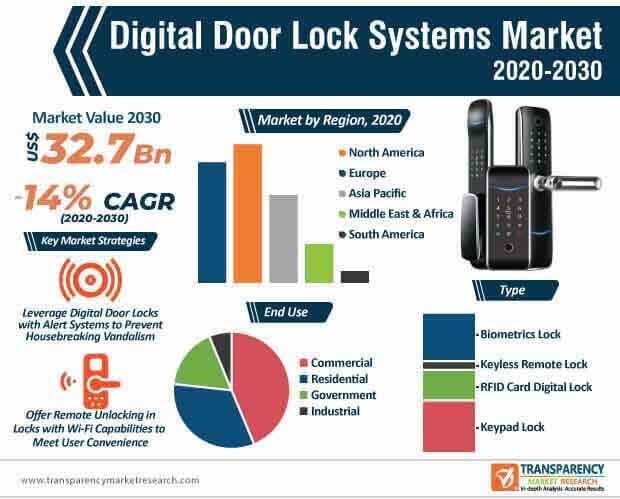 Fact.MR provides an unbiased analysis of the digital door lock system market, presenting historical demand data (2017-2021) and forecast statistics for the period from 2022-2032. The study divulges compelling insights on the global digital door lock system market with a detailed segmentation on the basis of:
Product Type
End-user
Region
Key Questions Covered in Digital Door Lock System Market Report
Explore Fact.MR's Coverage on the Technology Domain –
Smart Lock Market Insights -Smart devices' increased interaction with public, private, and residential infrastructure has resulted in a surge in demand for smart locks. The introduction of smart lock systems is enabled by improved security, safety, and monitoring of properties for theft prevention.
IRIS Biometrics Market Forecast-The extensive use of IRIS biometrics for physical access security is propelling the IRIS biometrics industry forward. In addition, since the number of customers migrating to mobile banking grows at an exponential rate, numerous firms are implementing IRIS biometrics as security measures.
Wireless Security System Market Scope- In the future years, the wireless security system market is likely to be driven by the increased adoption of wireless security systems for residential security. Because they enable home automation and stay operational even when the lights go out, wireless security systems are gradually replacing various traditional kinds.
Biometric Authentication Solution Market Analysis- Biometric authentication solutions are being more widely used as the demand for improved security and identification systems grow. The growing reliance on digital technologies and automation is likely to fuel the expansion.
About Fact.MR
Fact.MR is a market research and consulting agency with deep expertise in emerging market intelligence. Spanning a wide range – from automotive & industry 4.0 to healthcare, technology to even the most niche categories. 80% of Fortune 1000's trust us in critical decision making.
MarketNgage is powered by Fact.MR – our Unified Intelligence Engine, a revolutionary Market Research Subscription platform with a flexible pricing to suit your needs.
You can access all our technology research reports by signing up with MarketNgage'sMarket Research Subscriptionwith FREE credits. MarketNgage is powered by Fact.MR – A Fully integrated research solution for seamless single-window access Widest coverage on emerging markets, nascent products, and disruptive technologies.
Contact:
Sudip Saha11140 Rockville PikeSuite 400Rockville, MD 20852United StatesTel: +1 (628) 251-1583E: [email protected]
SOURCE Fact.MR