I've gone mad for smart plugs. I'm absolutely bonkers for them. Cheap ones that is. By cheap, I'm talking sub-$20 devices.
Sure, Ikea's Tradfri smart plugs only cost$10 but you'll need a Tradfri Gateway too, so that's another $30 on top. And also, the Tradfri platform is, well… patchy. Take my word for that.
Getting back to my original point though – buying cheap smart plugs is my new tech addiction. I used to be into putting smart home buttons all over my house – but now it's all about making dumb things smart.
It all started last Christmas when we put the tree and the lights up around the house. The year before that, like a man living in 1996, I just had the two main sets of Christmas lights on timers (timers!) and the other two I turned on and off by hand (BY HAND!) everyday. I may as well have been lighting gas-lamps.
Last year, the obvious thing was to control them with some smart plugs. The trouble is, the collection of smart plugs that I already had – review samples sent to me over the years from the big brands – were currently all being used for some 'crucial' task; and are tied up in so many Alexa, Google Assistant and HomeKit automations, that there was no way I was going to make use of these – even temporarily for the holidays.
People that know me know there's no way my brain could have coped with that. Imagine, just imagine, having a smart plug labelled 'Xbox' in multiple apps and systems that's suddenly able to turn the Christmas lights on and off… not on my watch mate.
So I turned to Amazon, and the absolute plethora of smart plugs coming in shy of $20 on offer there.
Budget review: Meross smart home verdict
In the spirit of tech journalism, I didn't just buy a few from the same company. I bought a bunch from all over the place. By "all over the place" I mean, the results page on Amazon. They all come from China.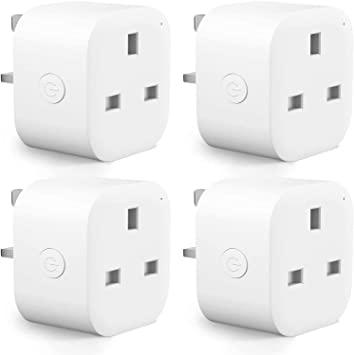 My buying criteria was simply limited to whether they worked with Alexa or not, as Amazon's digital assistant is the main driver in our household.
My thinking was that it doesn't' really matter how good/bad the companion app is to use, as long as I could get the plug listed as a device in the Alexa app, I'd never need to ever use the app bar the initial setup.
That's the beauty of Alexa (or Google Assistant / HomeKit / SmartThings) – that it really just ties all of your smart devices together in one place.
That was already an obvious thing and is one of the main reasons the smart home revolution has accelerated so much over the past couple of years. But with smart plugs, it's taken things to a new level for me.
As mentioned, it started with Christmas… "Alexa, turn the Christmas lights on" (group); "Alexa, Merry Christmas" (routine)… and the like, but that was just was just the terminus a quo. I'm plugging them in all over the house and setting schedules for when they are needed.
That's it actually. You probably expected a longer list, what with my comparison to a crack addiction. but add those seven to the four Christmas ones and that's eleven (ELEVEN) cheap smart plugs powering my house.
And there's loads more I'm going to get set up after reading this awesome guide to the best uses for smart plugs.
There is a lot of talk online, especially if you go deep on the home automation enthusiast forums and subreddits, that you are putting your house (or at least your house's network) at risk by using Wi-Fi-enabled smart plugs.
Anything that requires a connection to a cloud in China is often deemed a huge security risk on those sorts of forums.
My take on this - yeah, it's probably not ideal to add a load more connections to your Wi-Fi system. But what you gonna do? Cough up extra for Z-Wave or Zigbee smart plugs? Jog on.
TL;DR… Smart plugs are really cheap now and, if you're happy to put up with crap apps where English was clearly not the dev team's first language, you can make use of Alexa and co. to create to handy groups and clever routines.