The Amazon Echo is everywhere, and it's available in multiple iterations; from the OG Echo to the Echo Dot, from the Echo 2 to the Echo Plus, and even the Echo Show. There's no doubt that Amazon's Alexa-powered smart home device is having a bit of a moment. The chances are that you've probably got at least one of these devices in your home already and, it should come as no surprise to learn that Wi-Fi woes are chief among the issues for Amazon Echo owners.
Thankfully, there is a solution to your Echo setup/Wi-Fi problems. This article explains how to properly set up Wi-Fi on your Echo and the issues you may face before or during use.
Amazon Echo Wi-Fi setup: How to Properly Set Up an Amazon Echo
Most connection issues begin with the setup. A device that was not correctly set up or was unable to connect early on can cause problems. First, we'll walk you through the proper steps to start using your Echo device.
Upon completing the above steps, your Amazon Echo device is connected to your Wi-Fi network and becomes the internet server for your phone or tablet. This setup lets you control the Echo using the app while also getting internet to your portable device. You will need to repeat this process above for every Amazon Echo and Echo Dot you connect to your network.
How to Use an Amazon Echo
Getting started with your Amazon Echo requires knowing what the individual buttons and lights mean.
The majority of the Amazon Echo devices get controlled similarly, with the bonus of a touchscreen on the Echo Show. Each model comes with an action button, volume controls, a light ring, and a microphone-off option.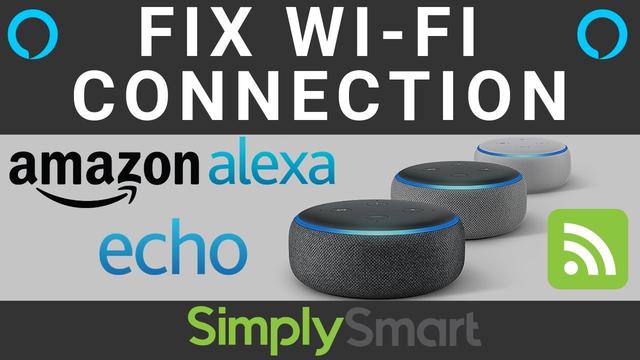 The Action Button, which you'll need to use during setup and troubleshooting, is the button with a "single white dot" in the center. You can use this button to turn off the alarm and timer and wake up the Echo.
The Volume controls are either represented with "plus" and "minus" buttons or via a "ring," which is found on the Amazon Echo 1st Gen. models and the Echo Plus. You can increase the sound level on the Echo Plus by rotating the volume ring clockwise.
The Microphone button, which stops Alexa from being able to listen to you, is depicted by a "microphone with a line through it." Once disabled, the light ring will turn red. Pressing it again will turn the microphone back on.
To start using your Amazon Echo, following setup, say, "Alexa," followed by your question or command. If it has recognized your voice, the light will turn blue to indicate it's listening.
The Amazon Echo and Echo Dot don't do a whole lot on their own—or they're certainly not as valuable without enabling Alexa Skills, which brings us to the following tutorial.
My Amazon Echo Won't Connect to Wi-Fi
Amazon Echo devices can only connect to a router with 2.4GHz only or dual-band Wi-Fi (2.4 GHz/5 GHz) networks that use the 802.11a/b/g/n standard. For dual-band routers, your Echo device WILL connect to the 5GHz band, although there is a way to force it onto the 2.4GHz spectrum.
Connection problems have two possible roots. It's either your Echo device or your internet (most likely) router). Let's take a moment to review some of the first steps to troubleshooting your Echo.
If you have multiple phones, tablets, Amazon Echo, smart devices, TVs, and computers on your Wi-Fi network, or you're downloading or streaming apps and content, you may find your Wi-Fi struggles to keep up.
If testing/adjusting the Wi-Fi network and Reducing Wi-Fi congestion doesn't solve the connection problem with your Amazon Echo device, try resetting it to start from scratch.
---
Now that you know how to set up your Amazon Echo and resolve common issues, you're ready to go. Given the abundance of Amazon devices, you can easily find plenty of documentation on fixing almost any problem that may occur.
Echo Device Connection Troubleshooting FAQs
To start, ensure that your phone (or tablet) connects to the correct Wi-Fi network, including the band (2.5GHz or 5GHz).
Next, try restarting your router or your Echo device. If the connection issues continue, you may need to perform a factory reset and start over from scratch.
If you've completed the setup tutorial and taken the proper troubleshooting steps, it might be time to reach out to Amazon Support. You may have a faulty device or something specific to your network preventing a successful setup.