Article content
We apologize, but this video has failed to load. Try refreshing your browser, ortap here to see other videos from our team.
A few stops in, Randy Ambrosie is threatening to cause an outbreak of road rage.
In Calgary and again in Regina, the commissioner has been asked about the ugly rumour making the rounds: that the CFL will actually consider a move to four downs.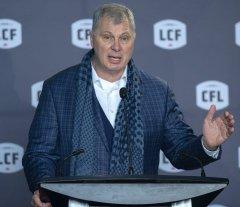 The former offensive lineman handles the question like a politician fielding a hot-potato issue on the election trail.
Why can't the game's Grand Poobah just pancake the idea?
Instead, he keeps whiffing on it.
If Ambrosie had blocked like this back in his playing days, he would have cost a few quarterbacks their careers.
The stakes are even higher now.
If the CFL moved to four downs, it may as well just pack up its yardsticks and chains and sell 'em on eBay, along with its soul.
Just change the name to NFL-Lite. Then be prepared to shut out the lights for good.