The Amazon event featured nearly a dozen major announcements for the company's Echo, Alexa, Ring and Blink brands. Plus it saw the introduction of Amazon Astro, a $999 rolling home robot with a periscope and digital eyes.
In addition to a robot that's only kind-of creepy, Amazon revealed a new smart thermostat, a 15-inch mountable Echo Show, a kid-centric interactive projector, a fitness tracker with a display, several Blink devices, availability for its Ring Always-Home drone and a slew of service updates.
Here's a closer look at everything Amazon announced at the Amazon event:
New Amazon products and services announced:
Amazon Astro: Smart home robot with wheels, a periscope and digital eyesAmazon Echo Show 15: Mountable smart home displayAmazon Glow: Interactive projector for KidsAmazon Smart Thermostat: Affordable Alexa thermostatAmazon Halo View: Company's first fitness tracker with a displayRing Always Home Cam: Availability update for indoor drone security cameraRing Alarm Pro: Updated home security system with Eero Wi-Fi 6 mesh routerRing Virtual Security Guard: New professional monitoring serviceBlink Video Doorbell: Affordable video doorbell
@tomsguide
Is #amazon Astro cute, creepy or both? 👀 #robot #tech #alexa #ring
♬ ALMOST HOME - Mad Adix, Marc Steinmeier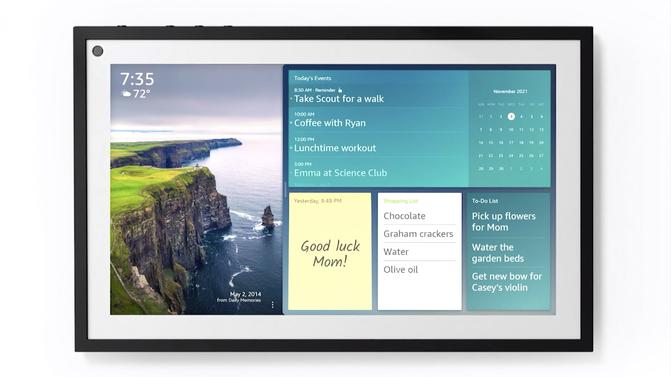 Amazon Astro: Announced in "one more thing" style, Astro is home robot that rolls around to keep an eye on what's happening. When you're home Astro can act like an assistant, or help you keep an eye on a relative. When you're away, Astro is a Ring-powered security tool, complete with a periscope cam for seeing over countertops and house-mapping abilities. You can set off-limit zones and Do Not Disturb times, too. Astro is available by invitation-only now for $999, and is shipping before the end of this year.
Amazon Echo Show 15: Amazon's largest display yet is the Echo Show 15, a wall-mountable screen that reminds of Samsung's Family Hub, but without the fridge. It features a new interface for managing your household's shopping, scheduling and communication needs, complete with a faster AZ2 processor that supports visual ID. Visual ID lets the Echo Show 15 know you using the camera. Then, the display can show content personalized to your schedule or preferred content. The Echo Show 15 is coming later this year for $249.99.
Amazon Glow: Not to be confused with the Amazon Echo Glow smart lamp, the Amazon Glow is a standing projector designed to keep kids connected and entertainment. It spits out a 19-inch touch-sensitive space where kids can play all sorts of games including puzzles, drawings and card games. From the other end, the family member can call from their own smartphone or device and can take part in the activities using the Glow app. For young children, Amazon Glow also allows relatives to read along with them, with thousands of children's books to choose from.The Amazon Glow available at an early access price of $249.99 through Amazon's Day One program.
Amazon Smart Thermostat: The Amazon Smart Thermostat looks fairly simple compared to the best smart thermostats. The main face of the thermostat shows the temperature in large numbers, with up and down arrows beneath. In between the arrows is a small circle. Of course, the thermostat is compatible with Alexa, so you can set routines for your temperature needs throughout the day. It should work with most existing HVAC systems, too. It's coming soon in partnership with Honeywell Home for just $59.99, but with rebates from energy utilities, could end up being as cheap as $10.
Amazon Halo View: The Amazon Halo is one of the best fitness trackers, but it didn't have a display for seeing your live workout metrics, the time and more. Now, the Amazon Halo View can do all that with 7 days of battery life, plus integration with new programs Halo Fitness and Halo Nutrition. Both programs are included in an Amazon Halo subscription, and round-out the company's wellness tracking tools. Halo View costs $79.99.
Ring Always Home Cam: Though this flying indoor security camera was announced last year, Amazon is finally sharing availability information. Invitation requests are open now, and those who gain access will spend $249.99.
Ring Alarm Pro: The Ring Alarm Pro updates the Ring Alarm home security system, Amazon's smart-device powered home security system and subscription monitoring program. It's a whole collection of devices, from door and window sensors to doorbell cameras and security cameras that can be placed around your property.With the Ring Alarm Pro update, the home security system is significantly upgraded by merging with an Eero Wi-Fi 6 mesh router, giving you whole home Wi-Fi with speedy connectivity and network security as well as security for your physical home. You can pre-order the system today for $249.99.
Ring Virtual Security Guard: This new subscription service lets you add professional monitoring to your security cameras, so that a third-party monitoring service can look in on your camera's feeds if they detect motion. Virtual Security Guard is estimated to cost $99 per month. In order to use Virtual Security Guard, you will also have to be a Ring Alarm owner, and subscribe to either Ring Protect Pro or Ring Plus, which cost $200 and $100 per year, respectively. Customers can request an invitation to try Virtual Security Guard, starting now.
Ring Video Doorbell package detection: Among all Ring announcements at the Amazon Event was one crucial tidbit: Ring video doorbells are finally getting package detection. However, this feature won't be available on all Ring video doorbells. The feature will only be available initially on the Ring Video Doorbell Pro 2 and Ring Video Doorbell (2020); the company says it hopes to make it available on more models next year.
Blink Video Doorbell: The Blink Video Doorbell is interesting because you can use it as either a wired or wireless video doorbell. And, we like that it will work with existing doorbell chimes, which is something the Ring Video Doorbell Wired can't do. There are some compromises, though; the Blink Video Doorbell lacks person, package, and vehicle recognition, so you're likely to get more notifications. However, its low price may be enough for some to overlook its limitations. It costs just $49.99 and starts shipping October 21.
Hey, Disney: This new collaboration is centered around a version of Alexa called, "Hey Disney." In Disney Parks and Resorts, the Alexa-backed AI will soon connect guests with their favorite Disney characters. It caters the Alexa experience to Disney fans, improving guest experiences with park information, hotel services and more.