AMA press release: The American Motorcyclist Association will not participate in the 2020 Fédération Internationale de Motocyclisme Motocross des Nations, Sept. 25-27, in Matterley Basin, Great Britain, due to the ongoing COVID-19 pandemic.
"The health of our racers and staff is paramount, and current and future global travel restrictions make our involvement in an international event impossible at this time," said AMA Supercross Manager Mike Pelletier. "The U.S. team effort to attend the Motocross of Nations each year is extensive, both financially and logistically. Even in normal times, preparing our best effort at this point in the season would be difficult. The AMA takes great pride in competing in the Motocross of Nations each year, and we appreciate the commitment of the athletes chosen to represent the United States on the world stage. The AMA looks forward to returning to the Motocross of Nations in 2021 and bringing the Chamberlain Trophy back to U.S. soil.
The FIM-sanctioned Motocross of Nations is a world championship team event. It features three-rider national teams competing for a combined score to determine the overall championship-winning country. The U.S. team has won the Motocross of Nations 22 times and is the all-time leader in FIM Motocross of Nations overall team victories. All of those wins took place under the direction of AMA Motorcycle Hall of Fame Legend Roger DeCoster. The most recent time the U.S. Team won the Motocross of Nations was 2011.
In addition, with the recently announced postponement of the 2020 Lucas Oil Pro Motocross Championship, rescheduled National rounds likely will conflict with the Motocross of Nations event.
ALL-NEW AMA NATIONAL MOTOCROSS RACE SCHEDULE— FOR THIS WEEK
For more information go to www.promotocross.com
AARON PLESSINGER DISLOCATES HIS WRIST—SURGERY REQUIRED
HUSQVARNA MOTORSPORTS AND BOBBY HEWITT FILE FOR DIVORCE
Bobby Hewitt will be leaving his own team.
Husqvarna press release: After more than five years of working together, it was announced that Husqvarna Motorsports, Inc. and HRH Racing, Inc. have mutually agreed to conclude their business relationship for the remainder of the 2020 race season and beyond. As a result of this new agreement, HRH Racing, Inc. owner, Bobby Hewitt, will no longer serve as Team Manager of the Rockstar Energy Husqvarna Factory Racing Team. Husqvarna Motorsports, Inc. would like to thank Bobby Hewitt for his commitment to the race team over the past five years and wish him the best in his future endeavors.
MITCHELL HARRISON'S 2020 GRAND PRIX SEASON KAPUT DUE TO COVID-19
Mitchell Harrison.
Bud Racing press release: Following the restrictions to travel between Europe and USA, Team Bud Racing Kawasaki and Mitchell Harrison will not be able to continue the end of the MX2 GP season together. Mitchell who lives in California can't come back in Europe due to Covid19 and regulations between Europe and USA.
Both parties, Bud Racing and Mitchell have agreed to parts ways, so everybody can try to find solutions to finish the season in best condition. Bud Racing Kawasaki will soon announce a replacement rider to finish the season in Europe together with riders Pierre Goupillon and Quentin Prugnieres. We wish Mitchell the best in finding a ride in USA to finish the 2020 season.
WESTON PEICK VIDEO: WHERE HE'S BEEN & WHERE HE'S HEADED
10 THINGS YOU NEED TO KNOW ABOUT THE 2021 KTM 450SXF
(1) New graphics with updated color scheme for a Ready to Race appearance.
(2) New mapping adds low-end power to drive out of corners, enhancing the SXF's already light feel.
(3) New updated WP Xact front forks withnew internals—designed for refined performance, comfort and handling—feature extended oil and air bypasses to reduce pressure peaks while a new mid-valve damping system improves damping control for exceptional feedback and feel. Performing in concert with the nNew air bypass, a smaller rebound spacer in the air leg increases air volume in the negative chamber for a more linear spring curve, emulating the behavior of a spring while keeping all the benefits of an air fork.
(4) New reworked WP XACT shock with a new O-ring for the link piston to reduce fading and improve consistency over long motos.
(5) New suspension settings front and rear compliment the new hardware for better traction, improved comfort and confidence-inspiring feel.(6) New "low-friction" linkage bearing seals made by SKF provide noticeably freer linkage action, offering better suspension feel and performance throughout the shock stroke.
(7) New Dunlop MX33 tires provide superior grip in a wide variety of terrain along with enhanced durability.
(8) Compact DOHC (double overhead camshaft) engine with cutting-edge cylinder head featuring titanium valves and super-light finger followers with a hard DLC coating. Bore/Stroke: 95mm x 63.4mm.(9) High-tech, lightweight chromoly steel frame with carefully calculated flex parameters provides a great blend of comfort, stability and precision.
(10) Hydraulic Brembo clutch and brake system offers highly controllable modulation and light operation.
MXA AD OF THE WEEK: THE ULTRA-GENIUSES OF YAMAHA
Can you name the three "Ultra-Geniuses of Yamaha" depicted in Yamaha's 1995, 12-page, comic book-style, YZ ad.
ULTRA-GENIUSES ANSWER: (From left to right) Keith McCarty, Ed Scheidler and Don Dudek. At the end of the comic book was the "YZ Warrior Oath." It read, "On my honor, I do hereby swear to be a guardian and upholder of smart engineering, the Yamaha Way, and all else that is good and right in the world! I promise to be loyal, steadfast and true, and to always be sympathetic and respectful of the sick and elderly — especially those who finish behind me."
MXA PRODUCT SPOTLIGHT: BOLT HARDWARE BRAND-SPECIFIC BOLT KITS
Bolt offers a self-contained kit that stockpiles the most commonly used bolts for Honda, Yamaha, Suzuki, Kawasaki, Husqvarna and KTM offroad bikes (and vintage bikes). Each kit is specially designed to include special bolts for each brand. Every Bolt kit comes in an 18-compartment plastic box, which slips easily under the front seat of a truck. What can we say about the performance of a bolt kit. It works. The retail price is $54.95-$64.95 (Pro Packs), $19.95 (56-piece Track Packs) and $15.99 (bodywork only). For more info go to www.boltmotorcyclehardware.com
10 THINGS YOU NEED TO KNOW ABOUT THE 2021 HONDA CRF450
The 2021 CRF450 features engine updates focused on low- to midrange performance, a newly designed chassis with revised rigidity and a slimmer overall package. The combination yields a machine that performs at a high level for the duration of a tough moto.
(1)The triple clamps have been changed for more flex and the bottom triple clamp is now 6.1mm higher. The 49mm Showa coil spring forks have 5mm more travel (310mm) and the front axle has its stiffness increased. The shock's piston has been enlarged and the shock spring is 200 grams lighter.
The 2021 Honda CRF450 is 70mm thinner than the 2020 model.
(2) The seat is shorter, lighter and 10mm lower at the back. Maintenance has also been simplified as the number of 8mm bolts on the bodywork has been reduced from 6 to 4 per side. The 2021 CRF450 is 70 mm slimmer (50 mm on the left side because of the lack of a left-side muffler, 20 mm on the exhaust side). The seat is now bolted up front with a bolt from each side (just below the rear of the gas tank). Speaking of the gas tank, it is still titanium, but it doesn't have the cheesy black plastic tank cover anymore.
The black plastic cover that previously covered up the Ti gas tank has been 86'ed for 2021,
(3) The head angle is 27.1° (previously 27.4°). The ground clearance is increased by 8mm to 336mm,. The dry weight is reduced by 4.2 pounds (which would make the CRF450 weigh approximately 234 pounds).
(4) The radiator shrouds are one piece instead of two plastic parts. The stock handlebars at Renthal FatBars. The top triple clamp has two bar mounts that allow the handlebars to be moved back and forth 26mm .
The seat bolts are at the front of the saddle (in the notch in the radiator wing just above the frame) and the hook is on the back.
(5) The front brake caliper has 30mm and 27mm piston diameters and a 260mm wave disc is used. A rear single-piston brake caliper works in conjunction with a 240mm rotor.
(6) The frame weighs 1 pound, 9 ounces (700 grams) less than the 2020 frame. The subframe saves 11 ounces (320 grams). Torsional rigidity is unchanged, but lateral rigidity has been reduced by 20%. The aluminum swingarm has a new rigidity balance that is tailored to the frame, with narrower tubes. The Pro Link shock linkage rising rate also been revised.
(7) There is a significant increase in peak power above 5000 rpm with more noticeable torque at low rpm. Some of this is because of the larger airbox, which is now easily accessible by removing the side panel. The engine has a new, lighter 46mm throttle body. It optimizes the efficiency in the intake tract and actively uses the latent heat of vaporization that arises in the intake ducts. The all-new hydraulic clutch delivers reduced manual force. There is a smaller fuel pump and lightweight magnesium valve cover. The seat is now smaller and lower in the rear.
One bolt accesses via the removable left side panel and the air filter is clips in.
(8) The injector angle has been increased from 30° to 60°, which means that the fuel is sprayed in the opposite direction of the intake air. The decompression system is new and the counterweight is shifted from the right side of the camshaft to the left.
(9) The biggest change is to the exhaust system. The exhaust outlet is oval instead of round. The previous dual exhaust system has been replaced by a single pipe and muffler that is 2-1/2 pound lighter than the 2020 dual system. The manifold is also mounted 74mm closer to the center axis.
We didn't think it could be done, but Honda's engineers made their electronic controls even more complicated. This is the new left side switch. It has five buttons and there is still another button on the right side of the bars
(10) The electronic controls (start control display, the EFI warning, the EMSB mode button, HSTC traction control button and the LED display) are located on the left handlebar. Pressing and holding the HSTC button for 0.5 seconds switches the system to the next mode, whereby a green LED display – one flash for mode 1, two flashes for mode 2 and three flashes for mode 3 – confirms the selection. The HSTC system can also be switched off completely. When the engine is switched on, the system uses the last selected setting.
HAVE YOU SEEN THE AUGUST 2020 ISSUE OF MXA? SUBSCRIBING IS THE BEST DEAL INMOTOCROSS
In this issue, out now, we test a full race Pro Circuit Yamaha YZ125 that we built for the World Two-Stroke Championships. We also had Doug Dubach shepherd our GYTR-kitted YZ450F through its hop-up phase. Unwilling to leave well enough alone we herded up a bunch of kids to help us test a Stacyc electric balance bike, we ask a kid to let us ride his full-race Supermini and not only resurrected a 2005 Honda CR125, but blew it up, while we were at it. If that wasn't enough we interviewed Rocket Rex Staten to prove that we weren't afraid of him.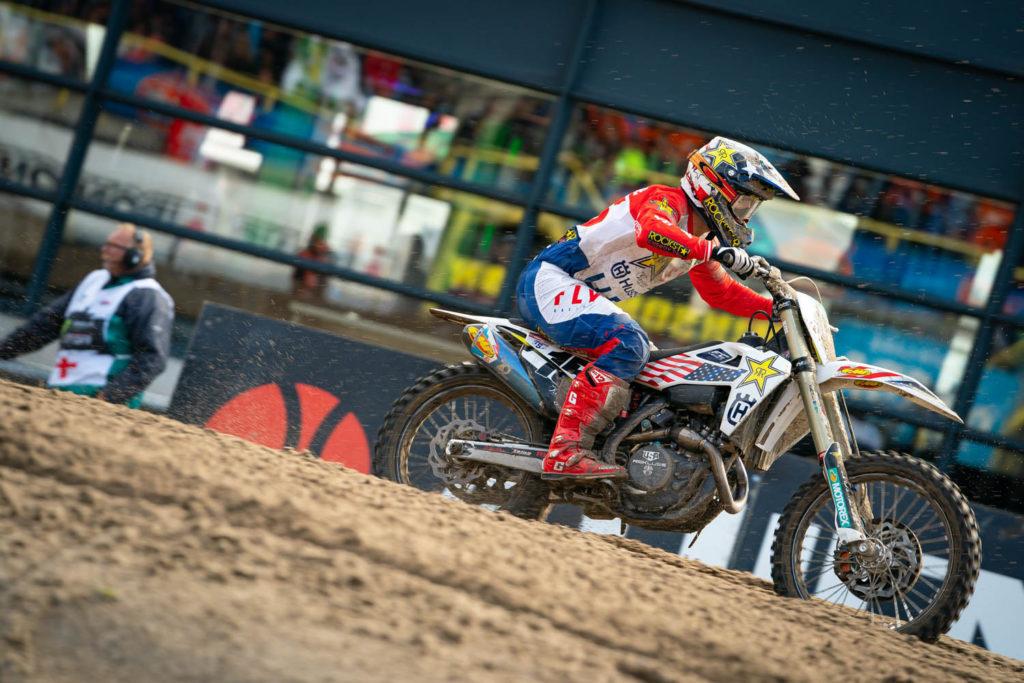 HOW TO SUBSCRIBE TO MXA SO THAT YOU NEVER MISS ANOTHER ISSUE OR SPEND A PENNYIf you subscribe to MXA you can get the mag on your iPhone, iPad, Kindle or Android by going to the Apple Store, Amazon or Google Play or in a digital version. Even better you can subscribe to Motocross Action and get the awesome print edition delivered to your house by a uniformed employee of the U.S. Government. You can call (800) 767-0345 or Click Here (or on the box at the bottom of this page) to subscribe.
GLEN HELEN'S 10-HOUR & 24-HOUR ENDURANCE RACES ANNOUNCED
Glen Helen's 3Bros-sponsored 10-Hour and 24-Hour off-road race have been scheduled for August 8 and November 21-22. This year the 10-Hour race will start at 4:00 p.m. Saturday and end at 2:00 a.m.Sunday morning. It is open to 4 riders per team and two bikes. The 25-Hour of Glen Helen will begin on November 21 at 10:00 a.m. and end on Sunday, November 22 at 10:00 a.m. The amateur teams can have 6 riders and two bikes, but the Pro teams can only have 4 riders and must finish the 24 hours on the one bike. Headlights are required for the 24-hour only, but recommended for the 10-Hour. For more info go to www.glenhelen.com.
NEW 2020 CANADIAN NATIONAL MOTOCROSS SCHEDULE
Is it better to post new race schedules and then cancel them or wait until you are sure that the races will be held? Canada posted two different National schedules in the same week.
Professional racing is under incredible pressure to organize and hold their 2020 seasons. With both the AMA 250/450 Nationals and FIM World Motocross Championships delaying the start of their seasons virtually every other week, the Rockstar-sponsored 2020 Canadian Motocross Nationals are prepared to get under way on the weekend of July 25-26 at Gopher Dunes. But, this isn't business as usual, as there won't be any spectators.
The 2020 Canadian National Motocross schedule has been changed in the last three days. Moto Park on August 1-2 is off the schedule and Walton Raceway will get back-to-back National rounds on August 8-9 and again on August 16.
To read the complete rider handbook for the Rockstar Triple Crown Series CLICK HERE. For additional information go to www.rockstartriplecrown.com.
TEN THING YOU NEED TO KNOW ABOUT THE 2021 HUSKY FC450
For 2021, Husqvarna Motorcycles offers a complete line of full-size two- and four-stroke motocross machines. The TC125 and TC250 two-strokes and FC250, FC350 and FC450 four-strokes benefit both first-timers and seasoned racers alike with easy-to-use features and the latest technological advancements.
(1) FRAME: The hydro-formed, laser-cut, robot-welded, chromoly steel frame features scientifically calculated parameters of longitudinal and torsional flex for optimal rigidity.
(2) COMPOSITE CARBON FIBER SUBFRAME: Husqvarna's composite subframe is a Husqvarna exclusive. Using a matrix of 70-percent polyamide and 30-percent carbon fiber, the two-piece subframe weighs less than 2-1/2 pounds.
(3) WP XACT FRONT FORK: The 48mm split air fork features a capsulated air spring and pressurized oil chamber for progressive and consistent damping. For 2021, there is an extended oil and air bypass to reduce pressure peaks, 10mm-shorter internal cartridges and outer tubes, a new mid-valve damping system, and click-style rebound dampers that can be adjusted by hand. The 22mm-offset, CNC-machined triple clamps have a rubber damper system to reduce handlebar vibration. A three-position handlebar adjustment is standard, and the front number plate integrates a yellow triple clamp guard to protect it from wear.
(4) WP XACT REAR SHOCK: With updated 2021 settings and new low-friction linkage seals, the WP Xact rear shock uses a pressure balance system to offer consistent damping throughout its 300mm of travel.
(5) MAGURA HYDRAULIC CLUTCH: The hydraulic clutch features a Magura master cylinder and clutch slave unit. The feel of the Magura clutch is seamless and easier to pull than any other hydraulic clutch. The clutch itself is a German-made system that features a maintenance-free steel clutch basket with Belleville washer diaphragm actuation that constantly compensates to keep the pressure points and function identical in cold or hot conditions.
(6) BREMBO BRAKES: The Husky motocross models come with Brembo calipers and master cylinders on a 260mm front rotor and 220mm solid rear rotor. These are considered to be the highest-quality brake components made.
(7) PROTAPER HANDLEBARS & ODI GRIPS: All 2021 Husqvarna motocross models come with ProTaper handlebars in a proprietary Husky bend. The ODI lock-on grip on the left side does not require gluing, while the vulcanized throttle grip features changeable quick- and slow-turn cams.
(8) BLACK BOX ECU: The Keihin ECU has a faster processing speed and is smaller. It integrates two maps, launch control and traction control on a handlebar-mounted multi-switch. The ECU also has a gear sensor that offers a different map for each gear. All four-stroke machines have 44mm Keihin throttle bodies. The injector is uniquelypositioned to offer the most efficient fuel flow into the combustion chamber. The throttle cable is mounted directly, without the added complexity of a throttle linkage.
(9) FOUR-STROKE EXHAUST SYSTEMS: The four-stroke head pipe on the FC250, FC350 and FC450 features an integrated resonance chamber and a design that allows the rear shock to be removed without having to remove the pipe first.
(10) COOLING SYSTEM: The high-strength aluminum radiators use CFD (computational fluid dynamics) technology to channel air efficiently through the radiators for optimal cooling in any condition. The radiators are mounted on the optimal center of gravity, while smart radiator protectors not only protect the radiators from flying debris but also act as radiator braces.
MXA AD OF THE WEEK: 2013 WORLD TWO-STROKE CHAMPIONSHIP POSTER
Remember when race posters hung on bedroom walls across America? Remember when race promoters took the trouble to print posters and hang them in local shop? Remember when race posters were fun?
TAKE THE MXA 2020 READER SURVEY & HAVE A CHANCE TO WIN FREE THOR GEAR!
Score free head-to-toe Thor gear now! Complete our reader survey we'll take your input to help improve future web and monthly print content of Motocross Action. One lucky winner will be chosen at random to receive a free gear ensemble from Thor (style and/or color may vary). This year's Thor (www.thormx.com) gear giveaway includes the following: Prime Pro jersey and pants, Sector Split with MIPS helmet, Radial boots, Sniper Pro goggles, and Agile gloves. That's $750 worth of products, so don't miss this opportunity to win all this stylish gear for free! Fill out the entire survey!
FIVE THINGS YOU NEED TO KNOW ABOUT THE 2021 YZ450F
(1) The YZ450F's engine gets combustion chamber geometry with steeper valve angles, more aggressive cam profiles, and a high-compression piston with low-friction rings, a longer connecting rod, larger exhaust head pipe connector, a high-flow air filter, better breather system and more, all while fitting under a smaller and lighter magnesium valve cover.
(2) The 2021 YZ450F gets an updated engine, cylinder head, frame and Launch Control System. The revised Launch-Control System optimizes engine output for quicker, smoother race starts every time by boosting controllability out of the gate.
(3) Racers can adjust the ECU straight from their phone using the onboard WiFi Yamaha Power Tuner App.
The black and blue 2021 Yamaha YZ450F Monster Energy Yamaha Racing Edition.
(4) To stand out from the crowd. The 2021 YZ450F now come in new Monster Energy Yamaha Racing Editions. With a factory team-inspired color and graphics package, riders can feel as if they too are part of a Yamaha championship-winning Supercross team.
(5) The suggested retail price is $9399 (blue) and $9599 (Monster Energy Yamaha Racing Edition).
2020 GREAT PLAINS VINTAGE MOTOCROSS SERIES: JULY 19, AUG. 9 & OCT. 11
For more information about the Great Plains Vintage Series go to www.greatplainsvintagemx.org
THE 32:1 PREMIX CLASSIC COMING TO LAST CHANCE RACEWAY ON SEPT. 11-13
For more information about the September 11-13 race in Montana go to www.lastchancemx.com.
2020 WISECO WORLD TWO-STROKE MOTOCROSS CHAMPIONSHIP WILL BE HELD ON OCTOBER 3, 2020
For more information go to www.glenhelen.com
40TH ANNUAL CZ WORLD CHAMPIONSHIP RESCHEDULED FOR OCTOBER 9-10 AT MARYSVILLE
Dating back to 1980 when MXA's Jody Weisel, Ketchup Cox and Pete Maly talked Saddleback Saturday promoter Jim Beltnick into holding a CZ race, the CZ World Championship is now on its 40th anniversary in 2020. For more information go to www.czriders.com
36TH ANNUAL WORLD VET MOTOCROSS CHAMPIONSHIP ON NOVEMBER 6-8: START PLANNING NOW
For more information go to www.worldvetmx.com
AIM EXPO CHANGES ITS DEALER SHOW FROM OCTOBER TO JANUARY, 2021, IN COLUMBUS, OHIO
The American International Motorcycle Expo (AIMExpo) will change the date of the 2020 motorcycle show from October 2020 to Jan. 21-23, 2021. It will be held at the Greater Columbus Convention Center in Columbus, Ohio. The 2021 show will now focus on retailers over three days instead of four. For 2021, AIMExpo will become a trade-only event. The transition to trade-only will bring more focus on industry needs and education. AIMExpo hope to educate dealers on improving efficiency, staying competitive and enhancing the bottom line.
MXA PRODUCT SPOTLIGHT: "THE INSIDE LINE: RACING THE 500CC WORLD MOTOCROSS CHAMPIONSHIP"
Rob Andrews is not just another pretty face who can race a motorcycle, he is a story teller that takes you inside and behind the scenes of what its like to race the FIM 500cc World Championships. The Namur Chapter is worth the price.
Never-before-published images from some of the sport's most acclaimed photographers highlight the book. Author Rob Andrews says: "I feel very fortunate that the best years of my GP racing career coincided with an incredibly memorable period for the 500cc World Championship. To be able to share my own experiences of that great time in motocross grands prix is equally exciting." On sale at www.theinsidelinebook.com now—worldwide shipping is available.
TEN THINGS YOU NEED TO KNOW ABOUT THE 2021 KAWASAKI KX450
The Kawasaki KX450 returns as the flagship model for 2021 and boasts a proven 449cc, liquid-cooled, four-stroke engine with improved engine power, slim aluminum perimeter frame, Showa A-Kit technology suspension, redesigned hydraulic clutch and electric start are the ultimate combination. For 2021 the KX450 receives engine updates for increased performance, a new coned disk-spring hydraulic clutch and a new oversize Renthal FatBar handlebars.
(1) The Kawasaki KX450 engine uses finger-follower valve actuation, which enables larger-diameter valves and more aggressive cam profiles. The intake and exhaust valves are titanium, while a bridged-box piston has a new dry film lubricant coating on the piston skirt reduces friction.
(2) The close-ratio fiv speed transmission is paired with a new Belleville washer hydraulic clutch for 2021. The clutch's coil springs have been replaced with a Belleville washer, resulting in lighter clutch actuation when the lever is pulled in, and a wider clutch engagement range to help facilitate control. Larger diameter clutch plates, revised friction material and offset segments help promote clean separation of the discs and reduce drag when the clutch is pulled in.
(3) Kawasaki's slim aluminum perimeter frame is constructed of forged, extruded and cast parts. It uses the engine as a stressed member to adds to the frame's rigidity balance. A lightweight alloy swingarm is constructed of a cast front section and twin tapered hydro-formed spars. The swingarm pivot was located in alignment with the countershaft sprocket to help balanced handling.
(4) The 49mm Showa coil spring forks feature large diameter inner tubes that are the same size as those found on the machines of Kawasaki's factory racing team (KRT). The forks enable the use of large damping pistons for smooth action and firm damping.
(5) The revised Uni-Trak shock linkage system is designed to work in conjunction with the Showa shock, aluminum frame and swingarm. The Showa Compact Design rear shock boasts A-Kit technology with large diameter compression adjusters, improving on the high frequency movements found on today's motocross tracks.
(6) The front brake has an oversized 270mm, petal-shaped Braking rotor, while the rear brake used a 250mm petal-shaped Braking rotor.
(7) The handlebars are 1-1/8th inch Renthal Fatbars that are lower and closer to the rider. Additionally the handlebars feature four-way adjustable mounts. The multi-position handlebars offer two mounting holes with 35mm of adjustability, The footpegs have dual-position mounting points that allow the pegs to be lowered 5mm.
(8) The four-stroke, single cylinder, DOHC, water-cooled 449cc lightweight engine package utilizes input derived directly from the Monster Energy Kawasaki race team, producing peak power and a torque curve that makes it easy to get on the gas early. The potent KX450 engine features an electric start, which is activated by the push of a button and powered by a compact Li-ion battery.
(9) The 2021 KX450 features aggressive styling along with in-mold graphics on the radiator shrouds and sleek bodywork has been molded to match the V-mounted radiators and narrow chassis design.
(10) The suggested retail price is $9399.
BORED AT HOME? TRY FREE ACCESS TO MXA DIGITAL EDITIONS FOR FREE, FREE FREE, FREE FREE FREE
Click here or on the above photo to get your free digital issues.
THE EVER CHANGING 2020 RACE SCHEDULES
Under the current plan, the 2020 AMA National series will start onAugust 15 and feature 9 rounds—counting two back-to-back races at Red Bud on a Saturday and the following Tuesday.
TENTATIVE AMA NATIONALMOTOCROSS CHAMPIONSHIPAug. 15…Hurricane Mills, TNAug. 22…Washougal, WAAug. 29…Crawfordsville, INSept. 5 (Saturday)…Red Bud, MISept. 8 (Tuesday) …Red Bud, MISept. 19…Millville, MNSept. 26…Jacksonville, FLOct. 3…Lakewood, COOct. 10…Pala, CA, NY
REVISED 2020 FIM MOTOCROSS WORLD CHAMPIONSHIPMar. 1…Matterley, Great Britain (Held)Mar. 8…Valkenswaard, Holland (Held)Aug. 9…Kegums, LatviaAug. 12…Kegums, LatviaAug. 16…Kegums, LatviaSept. 6.…Afyonkarahisar, TurkeySept. 16…Faenza, ItalySept. 20…Faenza, ItalySept. 27…MXDN, Matterley, Great BritainOct. 4…Mantova, ItalyOct. 11..Arroyomolinos, SpainOct. 18…Lommel, BelgiumOct. 21…Lommel, BelgiumOct. 25…Lommel, BelgiumNov. 1…Trentino, ItalyNov. 8…TBA, IndonesiaNov. 22…Neuquen, Argentina
2020 FIM MOTOCROSS DES NATIONSSept. 27.…Matterley Basin,Great Britain
REVISED 2020 CANADIAN NATIONAL CHAMPIONSHIPJuly 25-26…Courtland, ONAug…8-9…Walton, ONAug. 16…Walton, ONAug. 29-30…Sand Del Lee, ONSept. 5-6….Deschambault, QC
REVISED 2020 AUSTRALIAN NATIONAL MOTOCROSS CHAMPIONSHIPAug. 9…Connondale. QLDAug. 6…Maitland, NSWSept. 16…Newry, VICSept. 12…Horsham, VICOct. 4…Gympie, QLDOct. 11…Coolum, QLD
2020 AMA NATIONAL AMATEUR CHAMPIONSHIPAug. 3-8….Hurricane Mills, TN
2020 WISECO WORLD TWO-STROKE CHAMPIONSHIPOct. 3…Glen Helen, CA
2020 MONSTER ENERGY CUPOct. 10…Carson, CA
REM OCTOBERCROSSOct. 31…Glen Helen, CA
2020 DUBYA WORLD VET MOTOCROSS CHAMPIONSHIPNov. 6-8…Glen Helen , CA
JOIN MXA'S FLIPBOARD PAGE
If you use Flipboard make sure to subscribe to the Motocross Action page for all the updates on our website. Click HERE to check out the page.
TALK MOTO WITH ON MXA'S FACEBOOK GROUP CHAT
We love everything moto and want to bring all moto junkies together into one place to share their two cents, ideas, photos, bike fixes, bike problems and much more. To check it out first you must need to or already have a Facebook account. If you don't, it isn't much work and you could even have an alias so nobody knows it is you. To join click HERE. After you request to join we will accept your request shortly after.
FOLLOW MXA ON TWITTER
Follow us to see fresh content every day at www.twitter.com/MXAction or on twitter at "MXAction."
MXA YOUTUBE CHANNEL | HIT THAT SUBSCRIBE BUTTON
The MXA wrecking crew is everything moto related. Check out our MXA YouTube channel for bike reviews, Supercross coverage, rider interviews and much more. And don't forgot to hit that subscribe button.
Photos: Brian Converse, Josh Mosiman, Debbi Tamietti, Dan Alamangos, Jon Ortner, Daryl Ecklund, MXA